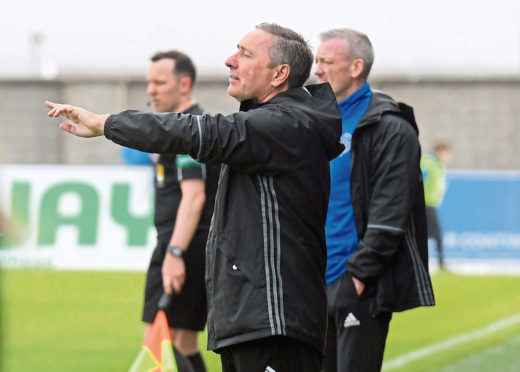 He may be an outspoken critic of the Irn-Bru Challenge Cup but Peterhead manager Jim McInally insists their tie with Bohemians is something to savour.
The League of Ireland side from Dublin visit Balmoor on Saturday in the second round of the tournament.
Blue Toon boss McInally has been one of the most vocal critics of changes made to the Challenge Cup by the SPFL in recent seasons.
While McInally does not believe sides from the Republic of Ireland, Northern Ireland, Wales, England and Premiership colts teams should be in the tournament, he is determined to enjoy this game.
That is because it is the first time the Buchan outfit have played a competitive game with a team from Ireland.
And also because he has a connection with Bohemians, having scouted Aberdeen for them ahead of their Uefa Cup tie in 2000.
McInally said: "It's a unique game for us. It must be historic for the club.
"I think it's the first competitive game between Peterhead and a team from the Republic of Ireland.
"It's as close to a European game as we will get at Peterhead.
"Everyone knows I don't think they should be in it but they are in and we're playing a team from Dublin in Bohemians who I have a bit of history with so I'm really looking forward to it.
"We're not really expected to do anything in the game but we could surprise them.
"We've done it to teams before and we'll try to do it again. It is something that may never happen again so it's something to enjoy."
The Challenge Cup has happy memories for Peterhead.
In 2016 they embarked on a remarkable run to the final and enjoyed a day out at Hampden in front of a capacity crowd against Rangers in the showpiece.
That is one of the reason McInally has criticised the addition of teams from other countries, because he believes it makes it harder for lower-league sides to reach the latter stages and have their shot at glory.
He added: "It is a cup with memories for us and that's why I'm so outspoken about the changes to it.
"The League Cup and the Scottish Cup are weighted against smaller teams having a run in them.
"This cup was brought to the fore for clubs like us but, again, they're making it harder for us to achieve things like cup finals.
"Although it is still our best bet of a run, they've made it harder.
"That's what really annoyed me because that day out we had in the final was unforgettable and it's something you always aspire to do again."
Something that does please McInally is the home draw.
He said: "The home draw was important. It means we don't have any costs or hassle because you would have needed to get guys off their work early on Friday to get flights.
"You would have been at the mercy of the cost of flights and Dublin's not cheap for hotels."