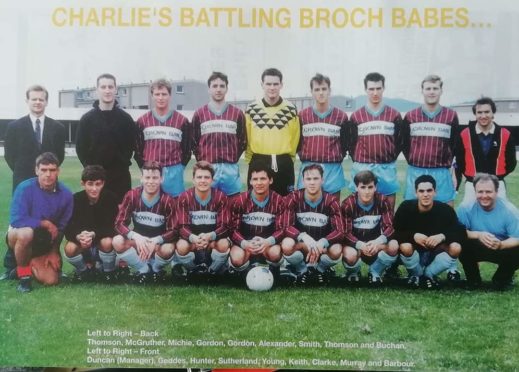 Kris Hunter was one of countless talents brought through the youth ranks at Fraserburgh by Charlie Duncan.
Now Hunter is hoping to emulate his former boss at Turriff United.
The Haughs club have been turning to youth over the last couple of seasons and, although the results may not have been particularly eyecatching with 14th and 15th-placed finishes in the last two campaigns, Hunter has faith.
As a player, he broke through at Fraserburgh in the early 1990s as Duncan moulded together a group of young players, who – as well as winning plenty of cups – eventually claimed the Highland League title in 2002.
During his 27-year tenure at Bellslea, Duncan brought through the likes of Scott Murray and Marino Keith – who both went on to have full-time careers, Ian Murray, Paul Keith, Michael Stephen, Billy Gordon, Derek Milne, Russell McBride and Graham Johnston, as well as current Fraserburgh manager Mark Cowie and current Broch stars like Ryan Christie, Willie West and Bryan Hay.
Hunter said: "I suppose Charlie is my inspiration. It's not something you really realise at the time.
"But once you go into management, you realise how much time and effort it takes.
"There wasn't really a scouting network and youth development at that time. Charlie was just always on the go.
"Charlie was always just scouring about, whether it was Ellon, Mintlaw, Peterhead or Fraserburgh – he always on the lookout.
"School football was a big thing then, so Charlie was always on top of schools teams and which players were getting picked for the select teams because that was a big thing at the time.
"He would always be in front of anybody else when it came to getting the youngsters to join.
"When he became Fraserburgh manager, him and the chairman Jimmy Adams agreed to go down the path of youth even if it took time.
"And it did, we didn't win anything for a few years, but after we did win something we started to do it regularly and eventually won the league.
"I look back on those days and I have to take my hat off to him because he had a vision and he stuck to it and enjoyed producing young players, which I take a lot from as well.
"I enjoy bringing young players into the Highland League, giving them their opportunity and seeing how they progress.
"That's one thing I really enjoy about management and Charlie was exactly the same. He'd take great delight in seeing you progress as a player."
Looking ahead, Hunter believes the future is bright for Turriff with the young squad he has at his disposal and reckons some of his charges could play at a higher level in the future.
The United boss added: "We've got a really good group of young players coming through. Turriff youth is a great system for bringing players through and there's a lot of players with a lot of years ahead of them.
"It's just about how we look after them and if they've got the right attitude and back themselves then they can have great careers.
"I wasted a few years of my career with a bad attitude and I don't want that to happen to any of the young players at Turriff.
"And I don't think it will, because they look after themselves, train hard and show commitment and if they keep doing that it will benefit them in the long run.
"When you look at it we've got Robert Ward, the Kinsella (Luke and Owen) brothers, Dylan Stuart, Ethan Smith they've all got tons of talent for young loons.
"But there are others as well and back in the day nobody thought Scott Murray would be a full-time footballer because his brother Ian was a better player.
"Then Scott reached an age where he just went beyond everybody at Fraserburgh and the Highland League really.
"He was just a later developer, because at 16 or 17 Ian was a better player, but at 18 and 19 Scott just left the rest of us standing really.
"Some players will develop later, so there might be somebody at Turriff that I haven't mentioned who will surprise us.
"It all depends on how the players adapt and how they take their opportunity, it's all down to themselves."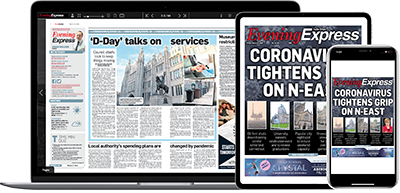 Help support quality local journalism … become a digital subscriber to the Evening Express
For as little as £5.99 a month you can access all of our content, including Premium articles.
Subscribe