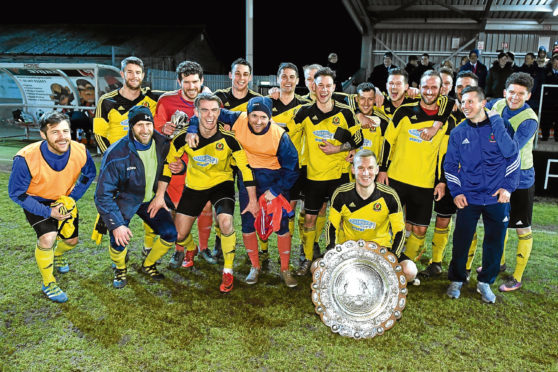 Cove Rangers captain Eric Watson insists he will never get bored of lifting trophies after picking up the Aberdeenshire Shield.
Skipper Watson led the Aberdeen side to a 5-2 win over Banks o' Dee in the final at Harlaw Park.
It is Watson's ninth trophy since joining Cove in 2007, but the first time they have won the shield since the 2008/09 season and his first shield victory as captain.
He said: "It's always brilliant being the last one up to get a medal and getting to lift the trophy above your head.
"You never get bored of that as a captain and hopefully I'll get to lift another couple yet.
"The shield was the first trophy I won with Cove. I won the league the season before (2007/08) and won the shield the following season.
"It's nine years since we've won it so it's brilliant to have it back in our trophy room.
"It's another medal and I look them out at home because my kids like playing with them so that's another one for them as long as they don't lose them."
Watson added: "It looks comfortable but they gave us a right go at the start of the game.
"We lost a sloppy goal from a set-piece which we weren't happy about.
"We dominated the rest of the first half and the second half and made more chances.
"But we've been sloppy again which let them back in the game. But we got the right response and kicked on and got the win."
Cove boss John Sheran said: "They made us work hard and I thought we defended as poorly as we have all season which contributed to making it a lot harder than it should have been.
"We had 10 chances in the first half which could have gone in. From that point of view it was comfortable enough but we invited them back in.
"But it's always nice to get our hands on a piece of silverware."
Luke BARBOUR fired the Junior side ahead from Ryan Hall's corner in the second minute and Jamie Watt was close to making it 2-0.
But Cove struck back with Mitch MEGGINSON'S 40th goal of the season from 14 yards and he then set up Ryan STOTT to make it 2-1 at the break.
Dee replied on 50 minutes with Kane WINTON netting before Jamie Masson crossed for MEGGINSON to make it 3-2. Moments later Watt netted for Dee but it was controversially ruled offside.
Liam McCALL'S own goal and sub Nick GRAY'S header completed the scoring late on.
Dee co-manager Sandy McNaughton felt Watt's effort at 3-2 should have stood and said: "I thought it was a goal, he started his run late and Jamie was adamant he started his run late. That would have made it 3-3 and it would have been a different game.
"But we've reached the final two years on the trot and that's a great achievement."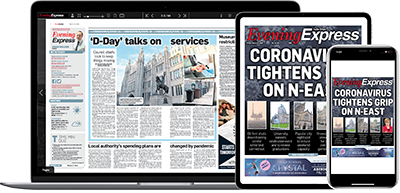 Help support quality local journalism … become a digital subscriber to the Evening Express
For as little as £5.99 a month you can access all of our content, including Premium articles.
Subscribe