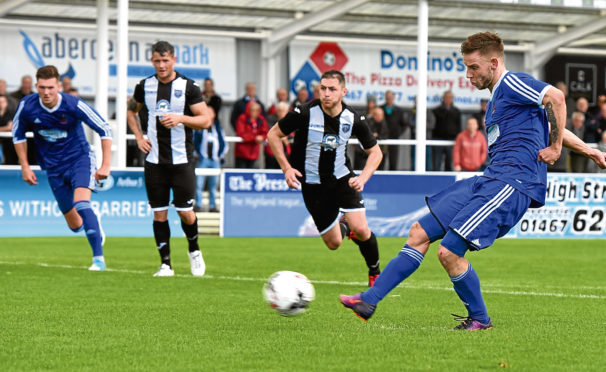 Cove Rangers boss John Sheran says "any win will do" when his side meet Fraserburgh in their Highland League Cup semi-final tonight.
Inclement weather means the Bellslea match will be only the second meeting between the two sides all season.
Sheran's men, who are three points clear at the top of the league, are playing catch up with their fixtures as they battle to have them finished in time for the SPFL play-offs.
He said: "We played in the league at Inverurie and drew 1-1, it was about the fourth game of the season or something like that. It is the second time and now we play them twice within a week.
"Fraserburgh games are always great games to be involved in and there's plenty of feeling and emotion between the two teams, so I'm sure it'll be a good game.
"I think we work on the basis every week that any win will do.
"We're not overly concerned with whether we play well or not, we're just trying to win.
"Particularly, semi-finals are about just making sure you win.
"We've lost one or two in the past and it's not a nice thing.
"We go into the game full of confidence and the boys are looking forward to it."
Midfielder Grant Campbell was an injury doubt for tonight, while forward Jonny Smith was also still suffering from a thigh injury.
Fraserburgh assistant boss James Duthie is looking forward to his team getting back to action after a "disappointing" postponement.
The Broch were due to play Rothes in the league and face a battle to be crowned best of the rest in the league.
With the league cup their only remaining hope of a trophy to mark a good term, Duthie is determined they reach the final. He said: "The way this weather's been going it's a bit of a nightmare, but there's nothing you can do about it.
"Maybe it can give us a little bit of a help (v Cove).
"The players will be fresh after a long journey up to Clach on Wednesday."
He added: "The game we played Cove in the league this season – the first half they were miles the better team and second half we were better and kept going, fought to the end and got a late equaliser. I watched them again on Saturday and they're a really good team, it'll be tough, but we're at home and we'll have to have a go.
"Once you get to the semi-final you have to be aiming to get to the final to give yourself that chance (of silverware)."
Broch will be without striker Aidan Combe and midfielders skipper Ryan Christie and Willie West.