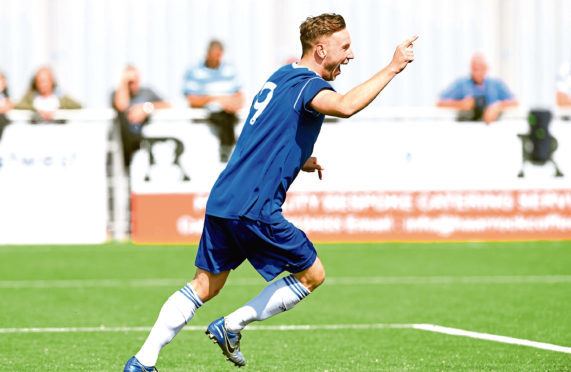 Connor Scully was delighted Cove Rangers started their Highland League campaign with a win against one of their title rivals.
The Granite City side beat Fraserburgh 2-0 at the Balmoral Stadium to start their defence of the title with three points.
A Mitch Megginson double won it for Cove on the day they were presented with the championship flag.
Scully was thrilled with the victory with the aim this season for Cove to retain the title.
He said: "I thought the boys played brilliantly.
"It's a big pitch at our new stadium, but I thought we used it to our advantage.
"They are one of our main rivals for the title so it was good to get off to a good start.
"We'll be there or thereabouts and we're a confident team so we know we'll do well.
"It's a long season and it will be harder this season because other teams have strengthened.
"We'll see what happens but just now we're all fit and ready so we'll take on the challenge.
"I think some people thought we might struggle at our new ground but we've settled in well."
Cove boss John Sheran was pleased with the display and praised goalie Stuart McKenzie for a first-half penalty save from Gary Harris when the score was 1-0.
He said: "I think over the piece when you play Fraserburgh you're in for a really tough encounter.
"It was a tough game, I think the heat was hard on all the players.
"Both sets of players deserve credit for being able to keep going the way that they did.
"You have to be pleased with any win against Fraserburgh. The penalty came at a important time and Stuart made a good save to his left.
"We had one or two other opportunitues we could have buried, but all that matters is a win and the three points."
The game kicked-off after Fraserburgh had given Cove a guard of honour following the presentation of the championship flag.
And the title holders started their defence quickly taking the lead after two minutes.
Daniel Park's cross from the right looked easy for keeper Peter Tait to catch, but he dropped it and MEGGINSON tapped into the empty net.
In 26 minutes, Cove should have been two up.
Megginson got beyond Bryan Hay and he could have shot but rolled the ball to Park, who returned it to Megginson. When his shot did eventually come it was blocked and then booted off the line by Ryan Christie.
The Broch passed up the chance to level from the penalty spot in 35 minutes.
Harris was tripped by Harry Milne. Harris took it but Stuart McKenzie made a good save diving low to his left.
The second half started at breakneck speed and only a great block by Milne stopped Scott Barbour equalising for the Broch.
In the 63rd minute, Park's drilled corner was flicked just over the bar by Milne.
It was 2-0 only a minute later. Scully sent a ball through for MEGGINSON to chase, he beat Tait to it and knocked the ball home from eight yards.
Fraserburgh kept trying but they were unable to force their way back into the game.
Broch boss Mark Cowie said: "It was an error (Tait's drop for the first goal), but these things happen.
"We made the mistake and had a wobbly 10 minutes, but we came back into the game well.
"But they are an excellent side. In the big moments in the game Cove were better, we were 1-0 down and missed the penalty.
"The keeper made the save, but if he dives the other way it's a goal.
"I thought we were on top at the start of the second but didn't score. They turned the screw and were on top and Megginson scored and that's the difference."