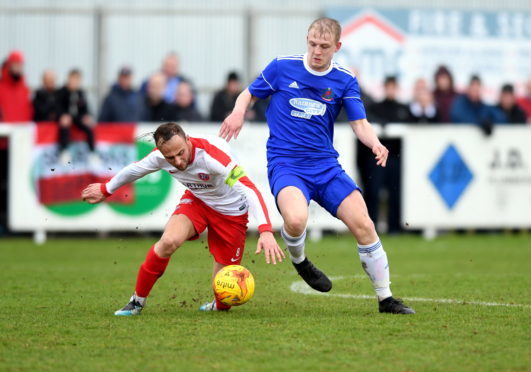 Harry Milne says Cove Rangers won't change their game for the second leg of the League Two play-off semi-final.
The Highland League champions head for Ainslie Park tonight with a 4-0 lead going into the second leg against Spartans.
Even though they have a significant lead Milne says the Aberdeen side won't be sitting back tonight in Edinburgh.
The left-back said: "We expect them to come out of the blocks flying.
"But we're not going to go down there and defend, we'll just play our normal game.
"We have hungry strikers up front in Paul McManus and Mitch Megginson who are always wanting more goals. It's not our natural game to sit in and defend.
"When you start trying to do something different that's when mistakes can be made so it's important to stick to what we know.
"We're always likely to create chances – on Saturday it was 4-0 going on a bit more.
"It's our natural game, you've seen how many goals we scored in the league and we all like to attack rather than defend."
Milne believes Cove showed on Saturday that they had learned from their previous play-off experience.
In 2016 they faced Lowland League winners Edinburgh City in the semi-final and were 3-0 down at half-time in the first leg.
He added: "It was quite cagey on Saturday and two years ago there was about a 10-minute period in the first half where we fell apart.
"On Saturday everybody was working each other out and then our quality showed through with everyone playing their part.
"Everyone played really well all over the park – all the way from Stuart McKenzie in goals with his communication all the way up to the strikers delivering with the goals.
"It's good, it's a start, but two years ago we went to Edinburgh City 3-0 down thinking we still had a chance.
"It's not over and they'll still think they have a shot. It's up to us to close the door."
Cove's victory in the first leg was made all the more impressive because Grant Campbell, Ryan Strachan and Sam Burnett played no part due to injury.
Milne said: "We've got quality throughout the squad.
"It's a shame for Ryan, Grant and Sam that they're not involved, but we have quality to come in and perform."