Tommy Wilson said he is sad to be leaving a "brilliant club" after he and co-manager Andy Roddie parted company with Huntly.
The Black and Golds announced yesterday that the joint bosses had left Christie Park after they turned down extensions to their contracts which were due to run out on December 21.
Wilson and Roddie took over from Dougie Baxter and Mark Gray last December and had taken Huntly up the table.
After finishing 14th last term the Strathbogie outfit have progressed to fifth in the Highland League.
Wilson admitted he was disappointed to be leaving but denied there had been a dispute over the terms of a new deal.
He said: "That's football – things happen in football behind the scenes and things change.
"I'd just like to thank Huntly for the opportunity to manage them. It's a brilliant club – I'm a wee bit disappointed with the way it has ended, but these things happen.
"We were just enjoying doing our jobs, and hopefully taking Huntly forward, which I think we have done.
"The club wanted to go in a slightly different direction to us.
"It's an excellent club and I'd just like to thank the chairman, George Clark, and the Huntly staff for giving us the opportunity to manage at a great club with great fans.
"The players were outstanding and it looked like we were turning the corner."
The chairman said: "We're very disappointed they have left – I think we've come a long way and they've done a very good job.
"But equally, whoever comes into the job will have a very good squad that they've inherited and a good base to kick on from.
"I don't want to leave it (the next appointment) longer than necessary. We are inviting any applications and we ask anyone who has an interest in the job to get in touch with the club and make that known.
"We'll have reasonable time to do that. But we would like to do it as quickly as possible because we have built up momentum over the season and we'd like to keep that going – that is the important thing from our point of view."
The departures of Wilson and Roddie have thrown Huntly's preparation for tonight's Aberdeenshire Shield first round tie with Formartine United into some turmoil.
The game is not guaranteed to go ahead because of heavy rain.
But, if the pitch is playable, Charlie Duncan and Charlie Ferries, who are in charge of the Huntly youth set-up, will be in interim charge with assistance from a couple of the senior players.
United player-manager Paul Lawson said of the departures: "It's a shock – I'm very surprised at that because the job they have been doing has been very good, and they seemed to turn things around.
"Whether it changes things for the game against us I don't know.
"Their players will still want to go out and get a result regardless of who's in charge.
"We just have to concentrate on ourselves, so nothing really changes from our end."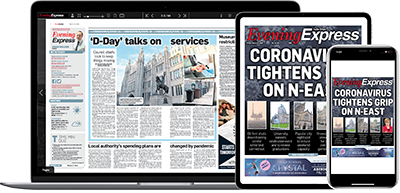 Help support quality local journalism … become a digital subscriber to the Evening Express
For as little as £5.99 a month you can access all of our content, including Premium articles.
Subscribe