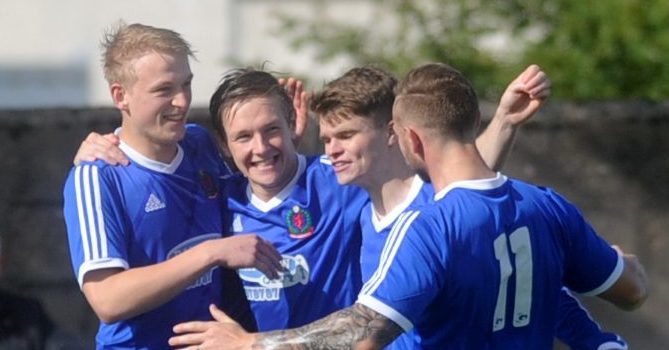 Formartine manager Kris Hunter confirmed a number of players will leave the club after their 5-1 thrashing from Cove Rangers.
He also does not believe his own position is under threat after the embarrassing performance.
Formartine remain fourth in the league but are already eight points behind Buckie thanks to some sub-par displays.
Some Cove fans chanted "sacked in the morning" but Hunter said the club's position is "not a disaster."
But he blasted some of his players saying "they were not doing the club justice."
And Hunter made it clear a number have played their last game for the club, potentially leaving as soon as today.
He said: "We're nowhere near where we were last year.
"The players I've brought in I thought they would push us on but actually it's held us back, it's made us a poorer outfit I think.
"I've got to be honest and say I made the signings and move the players on who aren't doing a job, it's as simple as that.
"We can't have passengers in our team and right now we've got far too many passengers.
"I've always based my teams around hard work and it's not happening, it needs to be addressed and we'll address it."
"I'm not concerned about my role, not unless the chairman sacks me."
Defensive lapses were a theme throughout the game at Harlaw Park for Formartine. Just two minutes in, Blair YULE blasted in on the rebound after some poor play from the visitors.
Scott Barbour hit the post before Formartine levelled after Harry Milne's high foot caught Graeme Rodger to give away a penalty.
Paul LAWSON expertly dispatched it into the bottom left corner just before the half-hour.
But midfield maestro YULE once again showed why he is one of the league's best.
Picking the ball up 30 yards out, he fizzed it into the top corner with Andy Reid grasping at thin air.
Mitch MEGGINSON added Cove's third before the break after a neat move from the hosts.
Formartine attempted to come forward more in the second half but with limited success.
Jonny SMITH kept his good form up, capitalising on more slack defending to slot home.
And Ryan STOTT grabbed a fifth in the final minute as Cove fans chanted "sacked in the morning" for Hunter.
Home boss John Sheran hailed his side's "complete" display.
He said: "The whole team played really, really well.
"We had quality, we had character and we deserved to win the game.
"The guys look forward to playing these big games and they were really up for it here."