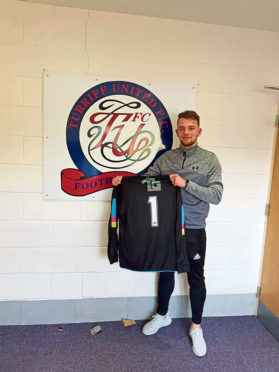 Fraser Hobday says he's joining Turriff United to get back to playing regularly.
Turra have agreed a deal with Peterhead for the goalkeeper which will be completed once the transfer window officially reopens tomorrow.
Hobday, 22, moves to the Haughs from Balmoor with the aim of being the first-choice goalie.
In the recently concluded season he sat on the Blue Toon bench as Greg Fleming's understudy, making just two appearances all campaign.
Now the former Huntly keeper is keen to get back playing and believes his move to United will allow him to do that.
Hobday said: "I'm very pleased, it's an exciting time and exciting prospect to be signing for Turriff and playing under manager Kris Hunter and assistant manager Dave Cormie.
"I've had some conversations with both of them and I'm really excited for next season.
"I'm really looking forward to next season now, it's a new challenge for me.
"I'm excited to get back playing again and enjoying my football.
"I've enjoyed my time at Peterhead very much.
"First of all I got to work with some top players like Rory McAllister and Simon Ferry.
"On the goalkeeping side it was good getting to work with Graeme Smith and Greg Fleming.
"But I came from being number one at Huntly for almost three seasons before joining Peterhead.
"So I found myself getting frustrated quite a lot sitting on the bench.
"I just knew within myself it was time to get back playing again and go and take the experience I've gained and take what I've learned and put it into practice.
"The most important thing for me is to get back to playing again."
Hobday is hoping to put the experience he gained with Peterhead to good use and added: "I'm really looking forward to it, there's a lot of young players at the club.
"The motivation of everyone is fantastic and I'm motivated to go there and do well.
"I'm still young but I feel like I have experience and I feel I can bring the experience I gained at Peterhead to the table at Turriff.
"Hopefully I can help the younger lads as well and be more of an authority in the changing room."
Meanwhile, Buckie Thistle have signed centre-back Sam Morrison.
The 20-year-old was captain of Ross County's Development team in the recently concluded season.
Morrison has signed a two-year deal with the Jags and is the third new signing of the summer for the Victoria Park side after Sam Robertson and Scott Adams signed pre-contract agreements earlier this week.
Boss Graeme Stewart believes both will be good signings with Peterhead manager Jim McInally disappointed he was unable to keep Adams.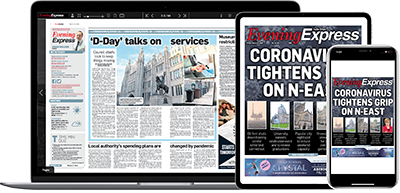 Help support quality local journalism … become a digital subscriber to the Evening Express
For as little as £5.99 a month you can access all of our content, including Premium articles.
Subscribe