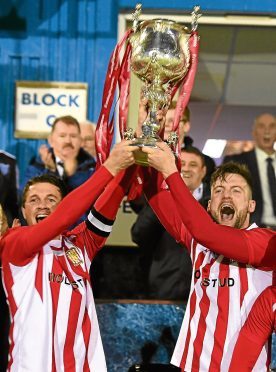 Formartine captain Stuart Anderson is eyeing more trophies after winning his first silverware with the club.
The Pitmedden men beat rivals Cove Rangers 1-0 on Saturday in the final of the Evening Express Aberdeenshire Cup at Balmoor in Peterhead.
Skipper Anderson joined Formartine in January 2014 and was delighted to lead the North Lodge Park outfit to a first trophy since they lifted the same trophy in 2013.
He said: "We're delighted, it's a monkey off the back of the players because we hadn't won a trophy for four years. "We are all really happy but now we have to build on it. "This has to be just the start of something, we enjoyed the celebrations but now we focus on next week.
"But it's great to win. We're one of the better teams in the league and to have not won a trophy has been disappointing. "But now we've finally done it. The aim is to win more trophies, it's been a fresh start with the new managers and we have to keep going. "Hopefully, this makes us hungrier to win more trophies." Anderson lifted the famous old trophy alongside former skipper Craig McKeown.
The centre-back has spent nearly two years on the sidelines with cruciate ligament injuries in his right knee and Anderson was pleased to share the moment with McKeown, who was named man-of-the-match after Saturday's final.
He added: "Craig came up with me as well to lift the cup. "He's had a tough time with injuries and he's come back – and what a difference he made for us on Saturday. "He gives us a base to work from, he was brilliant. "We lifted it together because we are all in it together at Formartine, it doesn't matter who is captain.
"We stick together as a group and that even goes for the boys who weren't involved. "Fair play to Cove, they are the best team in the league but we came with a plan and we did a job on them."
Victory gave United's management team of Paul Lawson and assistant Russell Anderson their first trophy.
Lifting the cup came after a turbulent start to the campaign for Formartine. Manager Kris Hunter left at the end of August with Lawson and Anderson appointed as replacements.
United were also badly hit by injuries in the early part of the season but now Anderson believes they have a fine squad with everyone available.
He said: "We can go on and on about injuries and it becomes boring but we did have a lot of problems at the start of the season. "The young boys have come in and done well, we've now got a good squad where the manager could make five or six changes and the team would be just as strong."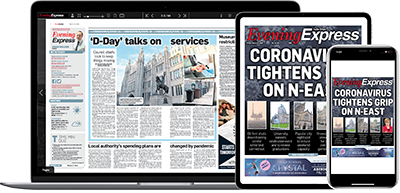 Help support quality local journalism … become a digital subscriber to the Evening Express
For as little as £5.99 a month you can access all of our content, including Premium articles.
Subscribe