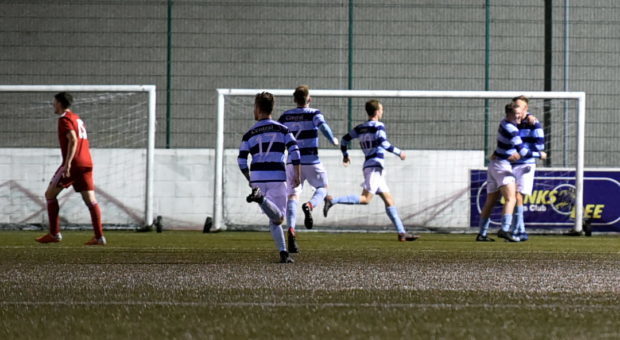 Aberdeen reserve manager Paul Sheerin said his side were "battered" as they crashed out of the Evening Express Aberdeenshire Cup.
Junior side Banks o' Dee beat the young Dons 4-3 after extra-time in a thrilling quarter-final at Spain Park.
Sheerin said: "On the night we were battered from start to finish and the better team won the game – I can't have any qualms about that.
"We prepared them and told them what to expect.
"But in fairness to Banks o' Dee they were well worthy of the win and I can't take that away from them.
"The players will come back from it because it's only one game. But it's frustrating, it's a competition we wanted to win.
"We're a senior, full-time side with decent experience and we should be winning this game – there's no getting away from that.
"But the team that wanted it more won the game, they're young boys and hopefully the bulk of them will learn from that because if they don't they won't have a career in the game.
"There's no rhyme or reason to it, they were set up properly and knew their jobs.
"But they were battered from start to finish and there was a softness about them that they couldn't deal with.
"I can't put my finger on it, but it looked like it was physicality."
Dee co-manager Jamie Watt hailed his side as they recovered from 3-1 down to triumph.
He said: "It's unbelievable, it took us a while to get going.
"Their movement was good and it's something we're not used to, they were pulling us about but we settled down and got a grip of it. I loved the tempo we played at and we were asking them questions.
"But we lose the two goals in a few minutes and you think it's all over, I can't believe the comeback.
"There were some unbelievable displays from the boys throughout the team to get back to 3-3. In extra-time I thought we were the better team and could get the winner, I'm absolutely delighted.
"The most pleasing thing was that we had the belief to keep playing good football once we went 3-1 down."
On 25 minutes Aberdeen were ahead when Bruce Anderson controlled a long ball on the edge of the area.
The striker turned his marker Greg Alexander and ANDERSON then fired a low right foot shot into the bottom right corner from 17 yards.
Moments later it was almost 1-1. Mark Gilmour's corner from the left found Luke Barbour at the back post and his cutback was almost stabbed in by Jack Henderson, but David Craddock saved on the line.
In the 37th minute, Anderson beat the offside trap and the onrushing goalie Andy Shearer, but his lob hit the right post.
Just two minutes into the second period Dee levelled.
The Junior side pressed Aberdeen, Dean Campbell's pass was loose, Mark GILMOUR collected and fired into the top left corner from just inside the box.
The Reds responded and were back in front on the hour when Connor McLENNAN skipped into the box on the left, cutback on to his right foot and fired into the right corner from 12 yards.
Three minutes later it was 3-1 when McLennan crossed from the left and despite getting a hand to ANDERSON'S header Shearer couldn't keep it out.
Just a minute later Dee stormed back when sub Lachie McLEOD headed home Gilmour's cross from the right.
On 68 minutes the game was level when Michael Philipson crossed from the right and Alan WHITE netted from six yards at the back post.
It sent the game into extra-time and both sides had chances, but Dee won the tie with five minutes left.
McLEOD got clear of the defence and his shot from 14 yards hit Craddock, but looped off the goalie and bounced into the net. It secures a Dee a semi-final against Turriff United.