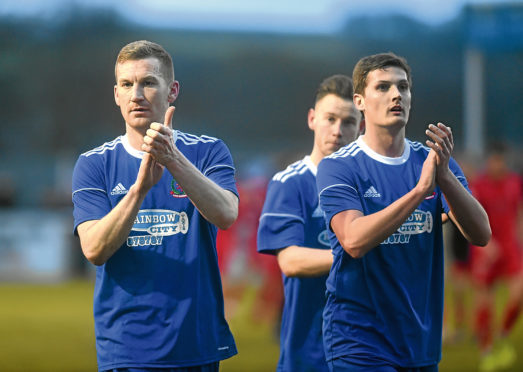 For Cove Rangers captain Eric Watson, it would be a dream come true to lead them out in League Two next season.
The Aberdeen team clinched the Highland League title on Saturday to book their place in the League Two play-offs.
John Sheran's side will face the winner of the Lowland League – which will be either Spartans or East Kilbride – on April 28 and May 2.
They will then play League Two's bottom side – which is likely to be Cowdenbeath – on May 5 and 12.
After wrapping up the Highland League, skipper Watson is already looking forward to the play-offs.
The centre-back said: "That would be the cherry on the top if we could do that (get to League Two).
"Now we've got to go and try to get Spartans and East Kilbride watched and see who we're likely to face.
"The last time we were in the play-offs we had to win every game until the end and won the title on the last day.
"This time we can go and maybe see their games and see what we've got to face.
"They'll both be tough games whoever we have to face and then it looks like being Cowdenbeath after that if we get through.
"That was the aim at the start of the season to try to get promoted.
"We are halfway there and we've just got to try to do the second half now."
Watson has now won the Highland League five times in 11 years with Cove.
The latest success is the 10th trophy he has claimed with the club.
He added: "It's brilliant. I don't know how many more there will be or what's around the corner.
"To just keep winning at my age is fantastic.
"I'm 35 and will be 36 in a couple of weeks so to win a fifth league title in 11 years with the club is not a bad success rate.
"I've had a no bad run with Cove in terms of winning trophies and hopefully there are a few more to come."
Tomorrow John Sheran's men go to Bellslea to face rivals Fraserburgh, whose 4-0 loss at Wick allowed Cove to win the league, in the first of their five remaining league fixtures.
Watson was pleased to secure the title at the weekend and believes they will now be able to rotate their squad to keep players fresh ahead of the play-offs.
He said: "It was great to get the league wrapped up.
"We knew there was the possibility with Fraserburgh up at Wick and to get it done is brilliant.
"We've won it with five games left and it's the first time we've won the league with this many games to spare.
"It's 29 league games now and we've only drawn three and won the rest, which has been incredible.
"At times we haven't played well, but we've dug in and got results which is the sign of proper champions.
"There are a lot of boys who have played a lot of football.
"But the points are in the bag, the league is won now so we have the luxury of giving boys a rest."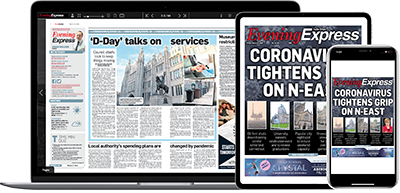 Help support quality local journalism … become a digital subscriber to the Evening Express
For as little as £5.99 a month you can access all of our content, including Premium articles.
Subscribe