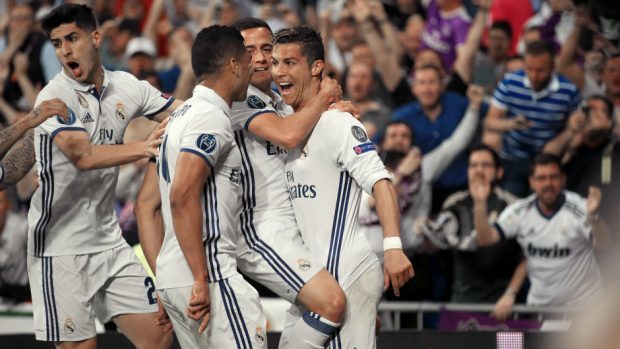 Drink it in – Real Madrid versus Barcelona is as good as it gets
It's the Clásico weekend in Spanish football and while this is a prime-rib, five-star sporting occasion, one which'll be on just about every fan's bucket-list, it's also a great sensory occasion, too.
Over the next couple of days La Liga and the four main Spanish football papers (of which I guess there are at least eight around the country) will churn out a spume of guff about how many billions of people around the globe will watch the match, whether they are now beaming Madrid v Barcelona to Pluto and completely ignore the fact that the Premier League's superior marketing probably means that Swansea v Crystal Palace gets a huge, loyal audience on Jupiter and its 67 satellite moons.
The main thing is that you can bet that Madrid v Barcelona will contain more technique, creativity, nous and thrills than almost any Premier League game this season and the swathe of people around the globe who are watching it will all, man woman child, be wishing they were there.
And I'll tell you who I wish was there … you.
Like all truly great sporting nirvanas, the Clásico is a real sensory experience.
More so in Madrid than at the Camp Nou.
Let me try to explain why.
Madrid's a massive city, London-esque you could say, and so it's connected by a huge, sprawling Metro system which is clean, fast and efficient.
That ferries hundreds of thousands of citizens and tourists around every day meaning it's feasible to be ensconced on the underground, if you're heading in from the airport or the suburbs, for several stops without knowing that the Clásico is on.
But the closer you get to the Santiago Bernabéu stadium, named after the hard-nosed ex-Real Madrid president who rebuilt this club, brick by brick, player by player, after the Civil War decimated it, the more there is a tidal wave of white shirts.
A little like the Camp Nou, the fans who go to worship on a day like this come from every corner of the globe.
Every single race, colour and creed is there, Japanese Madridistas probably being the dominant minority, and to many of them who've saved religiously for years to take this trip, no doubt costing them thousands of pounds between flights, hotels, entertainment and tickets, it can appear to be too much for the senses.
I've seen agitation, hilarity, anxiety, and, often, tears of joy, from those who've travelled across half the world for their first Santiago Bernabéu experience.
The stadium is smack in the middle of one of Spain's great streets, long, historic, elegant, throbbing with self-importance – the Paseo de La Castellana.
You'll have guessed that during the scar across Spanish society, beginning in the 1930s and lasting until the dictator Franco died in 1975, part of this street was named after his title.
Supreme General Street it was then – lyrical and romantic, no?
You can imagine what the few Catalan fans who come to this fixture feel about that memory (PS, if I haven't been clear it's "bad"!).
Around the stadium there's an odd balance. Just before the Santiago Bernabéu stop there's one named after one of the most brilliant, liberal thinkers in modern Spanish history, Doctor Gregorio Marañón, but leading just off the Castellana there's a street dedicated to Capitan Carlos De Haya who was a ferocious air-force fighter and, often, Franco's personal pilot.
But let me tell you, when you come up the steps of the Santiago Bernabéu Metro station and turn left to see Madrid's stadium towering over you it's already a magical moment.
The Camp Nou is a gigantic oval, surrounded by a hospital, a crematorium and still gently showing that when it was built the surrounding area was not at all urban.
The Bernabéu is defiantly different. It's a rectangular shape and the design makes it feel, and look, like some giant intergalactic palace – the kind of thing that rebel forces might need to attack in a football episode of Star Wars.
More and more these days, particularly in the UK, old, characterful neighbourhood stadia are being sold off and "new-build" Stepford Wives arenas are replacing them.
It's a damn shame. Let that never happen to this place.
Inside the views are utterly spectacular. I don't think there's a bad seat in the house and while Madrid's stadium, like the homes of all serial winners, can sometimes be a complacent "we deserve to be entertained" kind of place let me tell you that when it jumps, it really jumps.
Two memories stand out.
I saw Madrid thump Atleti in a Cup semi-final here and the fans roared like several jumbo jets were passing overhead.
The other was when Manchester United came here to be pretty much humbled 3-1.
Everyone seemed to be standing, everyone seemed to be jumping. The stadium holds the hubbub in and it reverberates around the four walls as if looking to escape for its own good.
In my time at Santiago Bernabeu Clásicos I've seen a lot, if not it "all". Horrific racist abuse, Madrid fans crying, Madrid fans applauding Ronaldinho, Madrid fans adoring the fact that Barça had to form a guard of honour for them coming out in April 2008, torrential rain, endless numbers of Raúl's goals, Thiago Motta tugging Zidane's hair to try to make him lose his temper and, above all, that Messi slalom goal in the 2011 Champions League semi-final which Xavi calls "practically the greatest goal of all time".
How I wish you were there for this game. Truly I do. But, for the moment, dream, plan, savour, save your money. One day you will go. This weekend, crack open the Ribero del Duero, take the phone off the hook, sit back on the sofa and enjoy. This is Spanish football supreme. Enjoy.
---
Bayern have given Barca the blueprint on how to stop Real
As for the football I think this week has suggested new themes and ideas because, a priori, this looked like a nice Sunday evening stroll in the park for Spain's champions-elect.
Barcelona's decline isn't monumental, but it's serious and it's not something which can be resolved by everyone just "trying a little harder".
Some parts of the team have aged quickly and there's a slight lack of athletic power gnawing away there. Some parts need to not feel their place is guaranteed.
Some of Barcelona's squad either aren't quite good enough, or are overwhelmed by the challenge of shaping up rapidly in one of the most testing football environments anywhere in the world.
There are hints of 2007/08 here. Not identical, but similar themes.
What happened back then, of course, is that Xavi and Puyol suffered what both of them have told me was the worst night of their footballing careers when, besides having to form a guard of honour for Madrid as they strolled out to a delighted audience of banshee Madridistas, Barcelona were thumped. It was 4-1 going on 7-1.
It's not quite that bad for the Blaugrana right now. But until this week they were the ones looking brittle, slow and dispirited.
Then Bayern came to the Spanish capital. Barcelona's players will probably still smell the bleach used to scrub the graffiti off the walls of the dressing room where the Bavarians scrawled "We Wuz Robbed, Min!" in red paint.
The German champions kept the ball, used it fluidly and until the referee intervened, on several counts, Bayern not only bossed the match but made Madrid look uncertain, sluggish and vulnerable.
Barcelona will have taken note. In fact notes. Hundreds of them.
Because a win would, effectively, seal the title and because Madrid have got a deeper squad, plus an extra day's rest, I'd say that Zidane's team still start favourites.
But the possibility of the La Liga race being thrown into turmoil increased just a little.
So, tune in and watch what threatens to be the last-ever Clásico for Luis Enrique. It won't be dull.