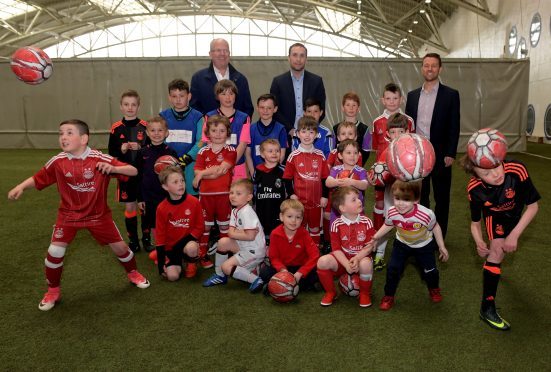 Russell Anderson helped to kick off the launch of the Denis Law Football Festival.
The annual soccer spectacular will give thousands from around the city the chance to play the game.
Activities are free in most instances and aim to encourage as many people to get involved as possible, covering all ages.
The festival is the work of a partnership between the Denis Law Legacy Trust, Aberdeen FC Community Trust, the SFA and Aberdeen Sports Village, which will host most of the events.
Traditionally focused on getting youngsters to take up the sport, there is a new walking football festival while the Over-35s tournament has been renamed the Denis Law Cup.
That is the first event to begin, starting on May 25 and running until July 5.
Activities in June and July will give thousands of young people the opportunity to play and the festival ends with the family fun day on July 16.
Ex-Dons skipper Anderson thinks there are a whole host of benefits for Aberdonians, particularly the city's children.
He said: "It's really important for the city and if you look at the level of kids participating in it now, it's a huge event.
"It has really developed and evolved in the last couple of years, you can see that from what the organisers have done.
"To see the amount of kids participating, it's great for the city and great for the kids to have it in a facility like this."
Law was recently granted the freedom of the city, something Anderson called "long overdue".
"He's still an integral part of this city," he added.
"He's deserving of having the recognition of having this tournament in his name but also for the freedom of the city."
Law is the city's finest football export and remains a hero for many Manchester United and Scotland fans.
And since retiring, he has sought to give back to his home city through football.
The Legacy Trust have organised the festival for years and always seek to make it bigger and better.
And for chairman Graham Thom, this is the perfect way of inspiring subsequent generations.
He said: "Football covers every generation – I went to Pittodrie in 1966 when I was 11 years old and here we are in 2017 and I'm still talking about it.
"It has this great longevity about it which allows us all to enjoy it.
"This is a great chance to see kids at a young age enjoying the facilities we have here and integrating with other kids to do something they enjoy."
He added: "It's important to keep giving people something to look forward to.
"Every year we try to improve it by providing something better."
Aberdeen Sports Village chief executive Duncan Sinclair added: "Part of our responsibility with our partners is to help develop and nurture athletes at all levels.
"The statue of Denis Law is one of the first things you see when you come into the Sports Village and it's fantastic to be associated with someone like him."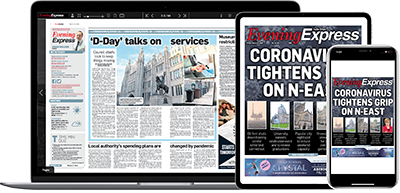 Help support quality local journalism … become a digital subscriber to the Evening Express
For as little as £5.99 a month you can access all of our content, including Premium articles.
Subscribe