It's unlikely that the greatest save of all time would come in the EBAC Northern League Division One, but goalkeeper Peter Jeffries has given it a good go.
Jeffries plays for Consett FC, and it was during a game against South Shields that his moment arrived. Eyes on the prize, keeper.
Not only did we witness one of the goals of the season last night, but also one of the best saves! Well done @ConsettAFC's @peter_jeffries! pic.twitter.com/lqTAbL2AGv

— South Shields FC (@SouthShieldsFC) March 1, 2017
With the ball coming straight at him, Jeffries' lightning quick reflexes allowed him to get a glove to the ball, before somehow hooking it away from goal like a lacrosse player.
Even the man himself couldn't quite believe what he'd done.
how did I manage that

— Peter Jeffries (@peter_jeffries) March 1, 2017
Unfortunately for Jeffries and Consett, the save didn't result in any points, as South Shields ran out 3-1 winners.
The goalkeeper was, however, grateful for the praise he received, which it's fair to say was substantial.
A lot of great comments from everyone, phone has nearly blown up today. Thanks

— Peter Jeffries (@peter_jeffries) March 1, 2017
What a save! Well done that man.

— Phil Bradley ? (@wolvesbradders) March 1, 2017
what a save!!!! Bet he couldn't do that again.

— Niknak (@NicDavis123) March 1, 2017
outrageous save mate! ⚽️??

— Huey (@stevenhubery) March 1, 2017
Even Premier League stopper Jack Butland took the time to show his appreciation for the effort.
great scoopage ???? https://t.co/O89f8Lvywo

— Jack Butland (@JackButland_One) March 1, 2017
Where does it rank in the all-time list, however, among those such as Gordon Banks v Pele, David Seaman v Sheffield United, and Jim Montgomery in the FA Cup final?
Not everyone was feeling so charitable – high standards here.
should have kept hold of it Pete ??

— Dan Newell (@dannewell190) March 1, 2017
The save alone justified the admission fee, but fans who were present were rewarded with not one piece of magic, but two – this one courtesy of South Shields' Carl Finnigan.
Take a bow, @carlfinnigan ?

Here's his volley in last night's Durham Challenge Cup semi-final win pic.twitter.com/kEsRxGlEOF

— South Shields FC (@SouthShieldsFC) March 1, 2017
Truly an embarrassment of non-league riches.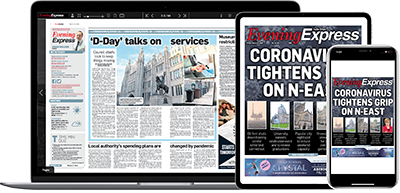 Help support quality local journalism … become a digital subscriber to the Evening Express
For as little as £5.99 a month you can access all of our content, including Premium articles.
Subscribe