Paul Simpson believes his England Under-20 World Cup winners have what it takes to build on their achievement – but is resisting talk of a "golden generation".
Simpson led his side to victory over Venezuela in Sunday's final in South Korea, Everton forward Dominic Calvert-Lewin with the only goal while Newcastle goalkeeper Freddie Woodman saved Adalberto Penaranda's second-half penalty.
As the team returned home to Birmingham Airport, Simpson reflected on "a wonderful few months" since stepping up in February from managing the Under-16 team.
He told Press Association Sport: "We met up in March and I knew straight away they had a hunger about them. I wasn't being daft, thinking 'we're going to go and romp it and win the World Cup', but I knew we had a good squad of players.
"We've had a real good spirit, a real good work ethic and to come away with a World Cup, they've obviously done a hell of a lot of things right."
Victory was England's first in a World Cup at any level since the 1996 senior tournament on home soil.
Champions Of The World ? #U20WCFinal

— Freddie Woodman (@41Woodman41) June 11, 2017
Simpson said: "I'm not sure that players have 'bottled it', but they've not performed on the big stage for whatever reason.
"These did. They went out and performed and were able to deal with the situation.
"There was nothing complicated about what we did, we have a style of play and we had a plan for every scenario that could have happened, we knew we could deal with it and that's what we've done."
Unreal!!! World Cup Champions ???? pic.twitter.com/wKoXjc9s3L

— Ademola Lookman (@Alookman_) June 11, 2017
Calvert-Lewin, who has made 11 Premier League appearances with Everton since his debut in December, set himself the goal of winning a regular first-team place while Woodman added: "If we don't go on to fulfil our potential, it would be a crime. But we understand we've got a long way to go, we just want to keep improving and hopefully our chances will come in the Premier League."
Simpson continued: "That's the challenge. They're going into some top clubs who've got some great staff, who'll look after them and guide them, so it's up to the players to be able to soak it all up and deal with it. I've got no doubt that these players are capable of dealing with it.
The hard work and dedication all for moments like this. World Cup champions 2017 ? pic.twitter.com/nYQpo9ViMK

— Callum Connolly (@Callum1connolly) June 11, 2017
"I think it's too early to be talking about 'golden generations' – they don't need that sort of pressure. What we need to do is enjoy what we've done here, realise it is a massive achievement what these lads have done, and let's see what happens. Hopefully they'll get games next season."
Regarding his own future, the former Carlisle and Preston boss said: "I'm sure I'll be having a conversation with the FA to find out what they want from me for next season, hopefully it'll be a role that's appealing for me and we'll take it from there.
"But I'm delighted to have been given the opportunity to take this team, it's an absolute honour to pull on this tracksuit with three lions on. I'm very patriotic and it's something I'll remember for the rest of my life."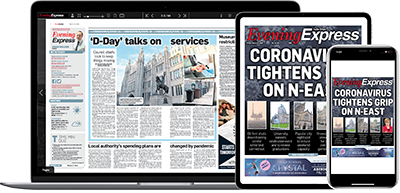 Help support quality local journalism … become a digital subscriber to the Evening Express
For as little as £5.99 a month you can access all of our content, including Premium articles.
Subscribe