Twelve Manchester United supporters involved in violent disorder ahead of an FA Cup fixture have been handed football banning orders.
Trouble flared between more than 100 fans on the streets of Manchester when Sheffield United played Manchester United on January 9 last year.
Bottles were thrown at officers amid the scuffles, but no-one was injured, Greater Manchester Police said.
Those identified by police and summonsed to court were banned from games for three to five years.
The disorder began when a group of around 80 Sheffield United fans left a pub in the Northern Quarter and walked up the road to Ancoats.
They came face to face with about 40 Manchester United supporters when they reached Bengal Street and the two groups attacked each other.
Police footage shows one man launching a glass bottle towards the rival gang.
Officers eventually separated the groups and they were dispersed.
On Monday, the last of the 12 men was given a banning order at Manchester and Salford Magistrates' Court, after the other 11 appeared on January 24.
A total of 15 Manchester United supporters were summonsed to court over the incident.
Police Constable Alex Robinson said: "This was a violent incident which resulted in significant disorder and would have been extremely frightening for anyone who witnessed the events that unfolded.
"Thanks to police intelligence, officers were able to identify the potential for conflict and ensure the disorder was quickly brought to a close.
"The vast majority of supporters behaved impeccably before, during and after the match but, unfortunately, there can sometimes be a minority intent on causing trouble and seeking out confrontation.
"These 12 men fall into this category, but have now received significant banning orders which will stop them attending any match for a number of years.
"These orders should send a clear message to any supporter considering committing offences on a match day that they will be caught and dealt with robustly."
The following received five-year banning orders:
Gavin Pinder, 39, of Lord Lane, Failsworth, Greater Manchester
Karl Anderson, 31, of Woodward Street, Ancoats, Manchester
Lee Berrie, 27, of Heather Close, Burscough, Ormskirk
The following received three-year banning orders:
Gareth Yates, 41, of Boothdale Drive, Audenshaw, Greater Manchester
Louis Bates, 24, of Kearsley Road, Crumpsall, Manchester
David Kerr, 48, of Trevor Road, Burscough, Ormskirk
Conor Gavin, 25, of Sedgley Road, Crumpsall, Manchester
Anthony Ewbank, 33, of Old Road, Failsworth, Greater Manchester
Simon Wale, 41, of Hesters Way Lane, Cheltenham, Gloucestershire
Jay Cornforth, 21, of Ashton Old Road, Beswick, Manchester
Gary Singleton, 37, of Crown Street, Farington, Leyland
Michael Hughes, 25, of Bollington Road, Ancoats, Manchester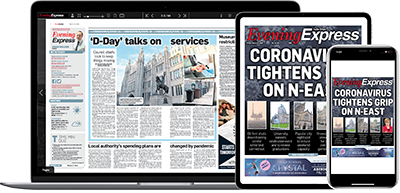 Help support quality local journalism … become a digital subscriber to the Evening Express
For as little as £5.99 a month you can access all of our content, including Premium articles.
Subscribe