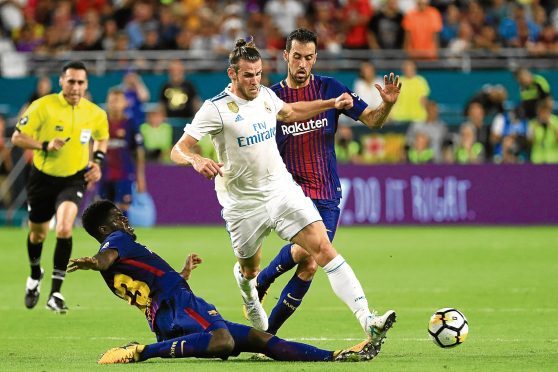 Pound for pound, Gareth Bale is already close to being, or in fact may already be, Britain's most successfully exported footballer.
Each of his eight career trophies have been won with Real Madrid and he's played in as many winning Champions League finals as Leo Messi.
To my mind that makes it nothing short of scandalous that so few people in Spain, or England, comment on the fact that this glorious Welsh athlete has almost always been played out of position during four seasons with Madrid.
Okay, okay … the vogue now is for right-footed players to cut in from the left and vice versa.
But at Madrid, Bale's primary role has been to burst down the right and go outside, not in, meaning he's far too often operating off his reasonably good right foot when the work he produces off his left boot would make angels sing.
I've fussed, previously, about how Ronaldo refuses to play as a No 9 when Bale is fit and could, thus, threaten to move to the Portuguese's preferred left-wing berth.
But when Bale's out, Ronaldo happily plays at centre forward.
That, and the frustration of almost constant injuries of one kind or another, are hampering the Welshman from reaching his absolute peak.
Manchester United want him. They've wanted him for years.
And Jose Mourinho has Gareth's mobile number.
Bale's stated position is that he wants at least one more year with Los Blancos.
But Madrid desperately want Kylian Mbappe and if the Frenchman signs they'll ask Bale "will you please" move to Old Trafford.
Deciding to stay is one thing. Stubbornly sticking to that when your club wants to cash in on you takes much, much greater resolve. Good luck Gareth.