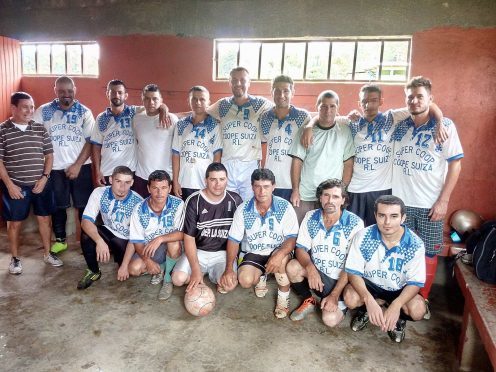 One Dons fan has gone from cheering on his beloved Aberdeen at Pittodrie to playing in a league in Costa Rica where they use old drainpipes as goalposts.
Ross Andrews from Oldmeldrum made the move a year ago to work as a business consultant, and has formed a team called the Costa Rica Reds.
The former Inverurie Academy pupil lives in a valley in a mountainous region about two and a half hours south of the country's capital, San Jose.
He became involved with his local team La Suiza after moving to the country.
They play locally at the equivalent of Scottish Junior level – Andrews described them as being similar to Aberdeen's Banks o' Dee.
Having changed their name to the Costa Rica Reds, the team won their league last season to gain promotion.
In their new league, they are required to play in proper kit with numbers.
But the area and a number of the team's players are very poor and the cheapest kit they have been able to source so far costs $450.
After winning a local cup, the Reds were presented with a bottle of rum because the local football association could not afford a trophy, and drainpipes are regularly used as posts.
The Reds need strips soon if they are to be able to take part in the league this season.
Andrews is hoping the Dons support around the world can help him gather strips for the team to use in the new season.
The team would happily take training kits or used tops.
Andrews, who also spent two years playing for the Rob Roy Reds in London, explained their plight.
He also revealed that the locals have become very knowledgeable about the Dons during his time in Costa Rica.
He said: "We need the strip if we are to be able to play in the league so we're hoping to reach out to Dons fans.
"The country is really poor with an average wage of 300-400 pounds per month so it's difficult to afford quality kit and equipment.
"The players and support are well educated on Aberdeen and watched the Scottish Cup final with me.
"They love it when they hear the fans sing 'stand free', too."
Andrews also has a bit of football pedigree.
His dad, Dave, played for Deveronvale and Inverurie Locos in the 1970s and was said to "leap like a salmon" – despite only being 5ft 8in he was extremely good in the air.