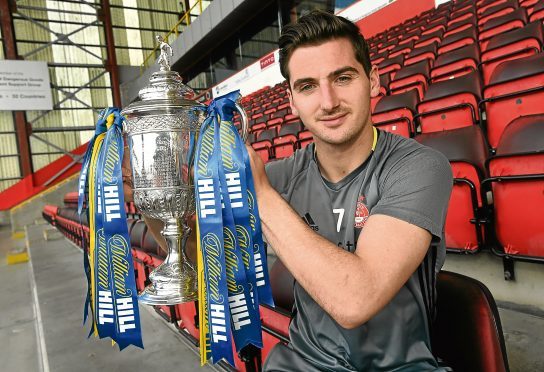 Fired-up midfielder Kenny McLean today warned Aberdeen can hurt Celtic's 'Invincibles' to lift the Scottish Cup.
The 25-year-old goes into the biggest game of his career with confidence sky high having been named in the Scotland squad to face England next month.
Following that call-up he aims to make it a week to remember by seeing offtreble-chasing Celtic to lift the Scottish Cup on Saturday.
Undefeated domestically in 48 games, Celtic are hot favourites but McLean's belief in the Reds lifting the trophy is not hollow bluster.
It is based on recent clashes and little pockets of weaknesses that have been exposed within the Hoops. Pockets that no-one has exploited in Scotland yet.
McLean reckons Aberdeen have the quality to do what no other team in Scotland has this season – defeat Celtic.
He said: "Celtic may have been dominant all season but we still feel confident that we can take the game to them and hurt them.
"That is something that hasn't been done too often to Celtic this season.
"We have the squad and the ability to hurt anyone and the result at Ibrox recently (2-1) showed everyone we can win in Glasgow.
"We have always known and were confident that we could do that."
Scotland boss Gordon Strachan admitted it was McLean's performance in the recent 3-1 loss to Celtic that convinced him to name the midfielder in his squad.
Aberdeen trailed 3-0 after just 12 minutes but recovered and could have salvaged something from the clash.
Despite the loss. that match reinforced McLean's belief that Celtic are not unbeatable.
He said: "In the most recent game we showed how well we can play against them.
"Apart from that first 10 minutes we were the better team for large spells and put Celtic under a lot of pressure.
"They struggled a bit with it.
"Of course they were missing Scott Brown who is one of their most influential players and keeps them ticking.
"However, we will look back on that game knowing that we can hurt Celtic and take real confidence from that. We know with the quality they possess they have been incredible going forward which is a massive strength for Celtic.
"But we have to get into their weaknesses and that is what we will do."
Following the Scottish Cup final McLean and Pittodrie team-mate Mark Reynolds will be back at the national stadium for the World Cup qualifier against England.
McLean remains the only Don to be capped during Strachan's four-year tenure as national boss having started in a 1-0 friendly win against Czech Republic in Prague last March.
He said: "It was great to get the recognition of being involved in the Scotland squad as it has been a long, hard season and I have been working really hard.
"I am just thankful to get that opportunity with Scotland again.
"But for now all my focus is on the final."
Celtic romped to the Premiership title with 34 wins from 38, and four draws.
Their points tally of 106 was a new European record, and 30 ahead of second placed Aberdeen.
In a one-off game though, McLean is confident the Reds can win to lift the trophy for the first time since 1990.
He said: "Celtic have earned that tag (Invincibles) because to go unbeaten, so far, domestically in a whole season that is pretty incredible.
"Fair play to them but I still think we are the team that can hurt Celtic and we will show that on Saturday."
That "so far" comment in McLean's valuation of Celtic's unbeaten run is important.
He expects, not hopes, to end that record-breaking unbeaten run of Celtic.
He said: "After that game (3-1 loss) we knew we were a team closer to them, and are a team that can hurt Celtic.
"Their strength no doubt is going forward and we have to take care of that first and foremost.
"We didn't do that in the first 10 minutes or so of the last league game at Pittodrie.
"But after that we dealt with them really well and Celtic had minimal chances.
"The way we have been playing is as good as it has been all season and we are scoring goals. We are really confident and can take a lot of momentum into the final."We are in as good a place as we can be and just can't wait for the final."
A 20,000-strong travelling Red Army will descend on the national stadium on Saturday and will unite en masse in a bid to cheer the Reds to a trophy that has eluded the club for 27 years.
McLean arrived at Pittodrie in January 2015 as a £300,000 signing from St Mirren when the Dons were League Cup holders.
He missed out on the Reds trophy success and homecoming when nearly 100,000 welcomed the team back when they paraded the League Cup down Union Street in March 2014 following a penalty shoot-out win over Inverness.Nevertheless he understands how important lifting the Scottish Cup is to the club, the fans and the Granite City.
The expectation is there – and he aims to deliver.
He said: "There are still a lot of boys in the changing room that played in the League Cup win.
"You can see from the pictures on the walls at Pittodrie how much it meant to the city as a whole, and to the fans.
"It was a huge achievement but I think the Scottish Cup is the bigger one.
"So to go one better and win that would be pretty exceptional and would make it a special season."
Aberdeen go into Saturday's final having finished runners-up for a third successive season and having secured Europa League qualification.
That was achieved with a record non-Old Firm points tally of 76.
A glory day at Hampden would be the ideal way to end the campaign, to make a memorable season an historic one.
McLean said: "We have done well in the league and got to the League Cup final, so it has been a good campaign
"This club has not won the Scottish Cup for a long time so to lift it is definitely needed.
"We need to bring the success to this club that it deserves.
"And silverware is how you bring success – by lifting trophies. To top the season off by bringing the Scottish Cup up to Aberdeen would be pretty special."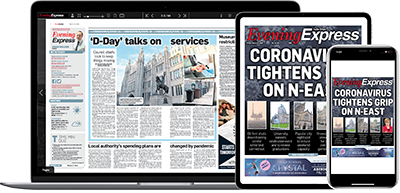 Help support quality local journalism … become a digital subscriber to the Evening Express
For as little as £5.99 a month you can access all of our content, including Premium articles.
Subscribe