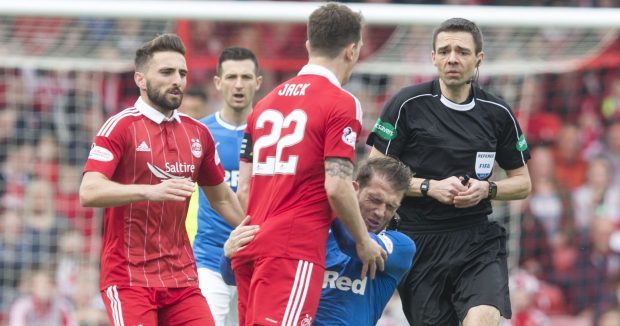 There were enough talking points for Steve Tosh to get stuck into in the wake of the latest Aberdeen v Rangers game.
Joe Garner's blatant attempt to get Dons skipper Ryan Jack sent off and the home side's late collapse that gifted the Light Blues three goals were among them.
Former Aberdeen midfielder Tosh will get to those in a moment.
But the thing that really caught the 43-year-old's attention was the fact Pittodrie wasn't sold out – the crowd was 19,332, for one of the most anticipated clashes of the season.
That and the fact there was a mass exodus from the home parts of the stadium as soon as Rangers scored their second.
"If you can't sell out Pittodrie for a game in which the Dons have the chance to really rub Rangers' noses in it, you never will," said Tosh, who now works in the oil industry but acted as a match summariser for Red TV, the club's official channel.
"I couldn't believe it," he said. "Where were the rest of the 40,000 who made such a fuss about getting tickets for the League Cup final in 2014?
"I've also been at matches at Pittodrie this season where the crowd was less than 11,000.
"That's not good enough for a side that have done as well as Aberdeen so far this season.
"They had won 10 home games in a row before the weekend.
"If Hearts had done that you would have no chance of getting a ticket for Tynecastle if they were playing Rangers.
"Only Brendan Rodgers has a better record than Derek McInnes so far this season – and you would expect that with the resources at his disposal at Celtic.
"Derek and the Dons directors would have a right to feel disappointed by the level of support they were getting."
Tosh was bitterly upset to see the Pittodrie stands empty like water running down an open sink plug-hole as soon as Kenny Miller prodded home the second goal for Rangers 10 minutes from the end of what became a 3-0 Premiership defeat.
He said: "I couldn't believe my eyes.
"I understand the fans being upset at seeing the Dons go two down.
"But we are talking about an Aberdeen side who themselves have a habit of getting late goals.
"It was a stage of the game where they needed their fans to stick with them and maybe offer them a helping hand. Instead they rushed off home, to the pub, or whatever.
"The most annoying thing is a lot of them will be ones who only go to Pittodrie for the bigger games.
"They will moan about that result and be reluctant to go back, unless it's to another big game, or a cup final.
"The real fans were there right to the bitter end.
"That's because they saw the game for what it was.
"It was one the Dons totally dominated for 79 minutes then lost because of five minutes of sheer madness."
Tosh was known as a fierce but fair competitor in his own playing days, so it was no surprise to hear he was disgusted by the reaction of Garner when he squared up to Jack in the third minute.
The Rangers striker crashed to the turf in dramatic fashion after a minimal clash of heads.
Tosh said: "It was really embarrassing for Garner, his Kyle Lafferty moment (Lafferty was ridiculed for going down in a similar manner after a challenge from Charlie Mulgrew at Ibrox in 2009).
"Garner was lucky I was in the back of the stand instead of out there in the thick of it.
"There's nothing players hate more than a fellow professional feigning injury in an effort to get someone sent off.
"If someone had done that to Garner in the middle of Union Street there is no way he would have gone down. Unfortunately, it's something that happens a lot in the game now.
"Having said that, Ryan ran the risk of being sent off by pushing his head towards Garner.
"The officials could easily have interpreted it as a deliberate head-butt.
"I was still baffled the ref chose to book both of them.
"If he felt there was a need to do anything then surely both should have gone off for violent conduct?
"I'm glad he didn't because it could have spoiled what I felt was a cracking game.
"Garner played his part after the incident with Ryan.
"I liked how much of a pest he made of himself, it was a bit like how I went about things in my own playing days. He seemed more up for it than anybody else."
Tosh still "strongly fancies" the Dons to finish second and feels the Rangers result could actually help rather than hinder them.
He said: "They know they can't afford to give Rangers any more encouragement. I'm expecting to see a big reaction from the Dons when they play St Johnstone at the weekend."