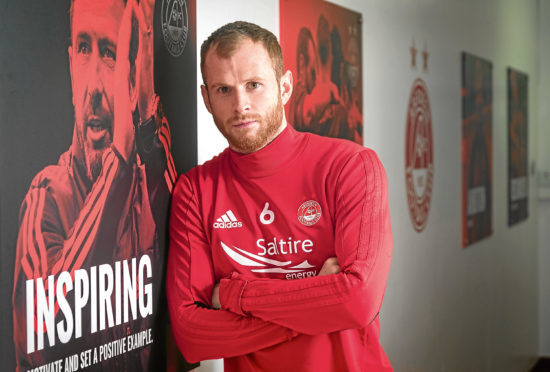 Mark Reynolds was delighted Aberdeen could prove their doubters wrong by winning at Celtic Park to secure a fourth straight second-place finish.
Andy Considine's goal on Sunday gave the Dons victory over the champions in Glasgow.
It meant the Reds secured a fourth successive runners-up finish in the Premiership and became the first Scottish side to beat the Hoops at Parkhead during Brendan Rodgers' time as manager.
Many people had written off the men from the Granite City this term with Hibs returning to the Premiership and Rangers splashing almost £10 million in transfers last summer.
Despite that Derek McInnes' side finished second again and secured a spot in the Europa League for the fifth successive season.
On the achievement Reynolds said: "It's huge. In the last four years everybody has been talking about how the league will get stronger.
"The Edinburgh teams have strengthened, Rangers have come back and it's going to be hard.
"But we've managed to see them all off, finish in second place and show that we're still a strong team.
"We've always been a strong team no matter how weak the league is.
"It shows for next season that we can still mix it with the strong teams in the league.
"I think the season was on a knife edge for a lot of it.
"There were one or two bad results and everybody was saying that was us and that we had blown up and made too many changes and couldn't keep it going.
"We managed to prove them wrong.
"We've always said we keep our own counsel and we do our talking at the end of the season, and that's what we've done.
"Everyone always talks about our post-split form and how we've struggled to get wins.
"But when it came down to it and we needed to get results we managed to dig in and get them."
Sunday's victory was Aberdeen's first in any competition at Celtic Park since February 2014 when Russell Anderson and Peter Pawlett scored in a 2-1 Scottish Cup fifth-round triumph.
But the last time the Dons won at the venue in the league was in October 2004 when Jimmy Calderwood's side prevailed 3-2 with goals from Darren Mackie, Fernando Pasquinelli and John Stewart.
Reynolds, 31, added: "The last time we won there was in the cup when Russell Anderson scored. I was lucky enough to play in that team and in the team who won on Sunday.
"It's a huge result and we're absolutely delighted with it.
"It was a long time (without a league win at Parkhead) and since I've been at Aberdeen we've managed to get a lot of those types of monkeys off our backs.
"We've put a lot of those bad records to bed and that is another one we're glad to chalk off the list.
"We've always known that we are capable.
"I think this season we've struggled against the teams round about us and we haven't got the results we wanted.
"But when it came down to it we've done enough. And when push came to shove on Sunday we managed to get the result we needed to finish second.
"We always knew we could win those sorts of games, but it's just nice to get over the line with the result.
"It could give us that extra break in the summer going into Europe a round later.
"It could be huge for our preparations for next year."
Second place was secured courtesy of Sunday's victory on what was a nail-biting climax to the Premiership campaign as the Reds battled for second spot with Rangers.
It looked as if Aberdeen's result would be irrelevant when Hibs led the Gers 3-0 at Easter Road. But when the Govan side came back to lead 5-3 it meant the Dons had to win to finish second, with Rangers and Hibs eventually finishing 5-5.
Reynolds revealed the Dons players didn't know the score in the capital and were focused on their own game.
"We never knew the score and nobody really asked," he said. "A couple of the subs knew, they were keeping tabs on it. But the boys out on the park didn't know about it.
"We knew if we got the job done then we wouldn't need to worry about it and that's the way it played out."
Aberdeen will return to European football again next campaign.
If Celtic win the Scottish Cup the Dons will enter the Europa League in the second qualifying round, but if Motherwell triumph at Hampden then the Reds will come in at the first qualifying round.
It's the fifth year in a row that they have qualified for Continental competition, the longest successive streak since they were in Europe for 15 consecutive seasons between 1977 and 1992.
Those were some of the best days in the club's history during the reigns of Billy McNeill, Sir Alex Ferguson, Ian Porterfield and Alex Smith.
Reynolds said: "It's great. When I first came here I think the aim was just to get top-six football again.
"We've solidified and become a mainstay in the top six and a mainstay in the European places.
"It's huge for the club and it's somewhere that a club like Aberdeen should be every year.
"It is nice to be in that bracket, because the club had struggled for a few years.
"I'm lucky enough to come in at a time when the club is on the up and everything is starting to get better.
"We're managing to play in Europe and sit at the right end of the table."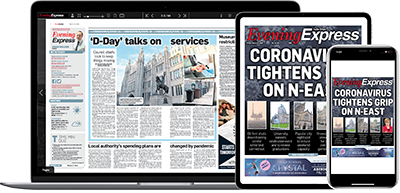 Help support quality local journalism … become a digital subscriber to the Evening Express
For as little as £5.99 a month you can access all of our content, including Premium articles.
Subscribe