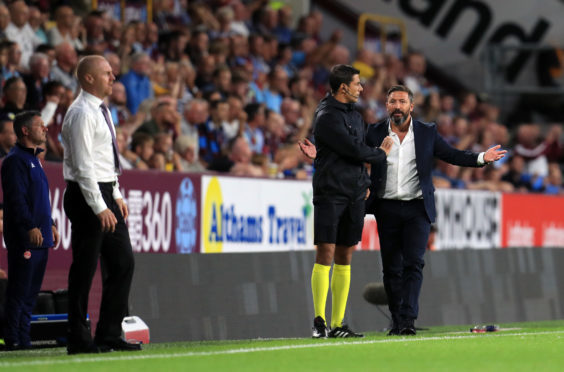 After pushing Burnley so close in the Battle of Britain Dons boss Derek McInnes was proud of his players and the club's supporters.
Aberdeen went toe to toe with a side from the richest league in the world – and nearly caused an upset.
McInnes insists the only objective was to go to Turf Moor to beat a Burnley team with a player wage budget of £37 million.
For a period in a dramatic tie it looked like they may do that and shock the Clarets.
He said: "I am proud of my players, I am proud of my club and I am proud of my supporters.
"It was a collective effort as everyone gave everything.
"There is nothing but pride from me and nothing but praise for my players.
"But ultimately there is raw disappointment that we have not made more of one or two chances and won the game.
"The sole objective was to come and win – it wasn't to try and save face.
"It wasn't to make a good account of ourselves or glad to be part of it.
"For us it was to win the tie and both games were played in that manner.
"The good thing is that the players all believed that which is why the disappointment is so strong.
"Over two ties we went toe to toe with Burnley, a side that finished seventh in the English Premier League.
"However, after the game it was a very quiet dressing room and they were very down.
"It is difficult for me to have the words to lift them after that.
"That says it all really as no one believed more than the players that we could get a result. That is a sign of where we are."
For the first time under McInnes the Dons have failed to reach the third qualifying round of the Europa League.
McInnes said: "My first thoughts are disappointment for my players who put so much into it.
"And for the club's supporters.
"But there is no criticism and we cannot afford to be too disappointed.
"We have to move on to Rangers on Sunday."
The odds were stacked against the Reds from the outset when they landed the toughest possible draw in Burnley.
Having finished seventh in the Premier League, the Clarets were competing in Europe for the first time in 52 years.
"The way the draw was made – we finished second in the league and get dealt Burnley," said McInnes.
"The draw seemed a bit unfair at the time and it was a real competitive game.
"Both Burnley and ourselves wouldn't be expecting that type of match.
"It was more competitive than both of us will have wanted.
"There is no way Burnley or ourselves can be at our best at this stage of the season so the physical demands of that, a lot of players will be feeling the effects."
Burnley grabbed an early lead before Aberdeen teenager Lewis Ferguson levelled with a fantastic overhead kick that is already a contender for goal of the season.
Aberdeen had chances to go ahead before Burnley netted twice in extra time.
"It was a fantastic game and the intensity over the last two ties has been quite remarkable at this stage of the season," said McInnes.
"You don't normally get games like that at this stage.
"Obviously the proximity of the teams with the Scotland and England thing, both sets of players clearly were very competitive.
"The Burnley and Aberdeen supporters helped generate what played out."
Burnley will now face Turkish side Istanbul Basaksehir in the next round while the Dons' sole focus will now be on the domestic campaign.
That begins with a Pittodrie clash against a Rangers side remoulded under new manager Steven Gerrard.
McInnes is conscious of the physical aftermath of playing a high-tempo game into injury-time with Rangers looming in just two days.
Having played 120 intense minutes at Turf Moor, the Reds have a fresh task on their hands.
McInnes said: "With extra-time and early kick-off on Sunday, and with travelling, that is my biggest concern at the minute.
"McGinn, Cosgrove and Hoban were feeling the effects so we made the necessary changes."
Burnley got off to a perfect start by netting the opener through Chris Wood in the sixth minute.
However, McInnes praised his players' character for bouncing back into the game after that early setback.
He said: "They got a goal which could have rocked us but we composed ourselves and worked our way back into the game.
"We recovered from a difficult start as Burnley got out of the traps very well and imposed themselves well.
"They were very good in that opening 15 to 20 minutes but we scored a brilliant equaliser.
"From then on in we were always well in the game and knew that next goal would finish them.
"They got the goal, though, and that is cup football.
"Some of our composure and play was bright and smart.
"Both sets of players deserve a lot of credit for the intensity of the tie.
"We have missed some opportunities to strike that blow that Burnley struck to us in extra-time.
"We cannot dwell on it but it could have been so different as there was nothing in the game for me.
"Truth be told 3-1 was harsh on my team."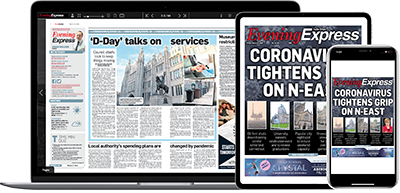 Help support quality local journalism … become a digital subscriber to the Evening Express
For as little as £5.99 a month you can access all of our content, including Premium articles.
Subscribe