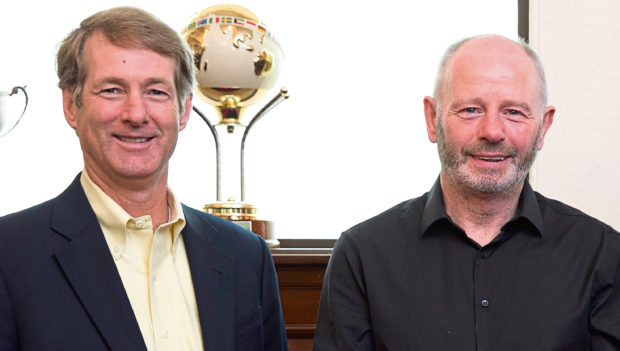 American businessman Tom Crotty said it was an "honour and a challenge" to join the Aberdeen board after investing £1.3 million into the club.
A venture capitalist, focused on communications and software, Crotty spent 27 years at Battery Ventures – where he was managing general partner for 12 years and remains a senior adviser.
Battery Ventures successfully invested in Brightree, LLC, which was founded by fellow Dons director Dave Cormack.
Crotty, as a former member of the Notre Dame men's soccer team and now a trustee of the university, also has links to the Reds through the club's former goalkeeper Bobby Clark, who served as men's coach at Notre Dame.
Crotty said: "This appointment is an honour and a challenge.
"I first set foot in Pittodrie during the summer of 2003 when Bobby brought the Notre Dame men's soccer team to Scotland for training and exhibition matches.
"All these years later I'm thrilled about playing an influential role in realising the bold vision of a club with such a rich heritage but a refreshing head-on approach to meeting the challenges of the modern football era.
"This scale of ambition is highly appealing and, having got to know the directors and management over the last 18 months, I have every confidence in their determination and ability to achieve it."
Crotty – who helped establish charity Grassroot Soccer – also praised the work of the Aberdeen FC Community Trust, adding: "In my experience, and particularly through my work with Grassroot Soccer, football has a hugely positive impact across whole communities.
"AFC has to be congratulated on its intent to deliver sports facilities for the wider community, not just for its own players, and for the exceptional work of AFC Community Trust.
"I'm looking forward to playing my part in a club with whom I have forged strong links."
Dons chairman Stewart Milne said Crotty's cash injection will help deliver phase one of Aberdeen's Kingsford plans, which includes the training facilities and a community sports hub.
Crotty was the lead donor behind the construction of Notre Dame's men and women's football stadium, and also helped raised several billion US dollars as part of the institution's capital campaign cabinet.
Milne pointed to Crotty's business experience, which he thinks will help secure further investment in the club, as well as his charity work. He said: "This decision reflects the fact that Tom is now a major investor in the club and in phase one of the Kingsford plans – the community sports hub, football academy and training facilities at Kingsford.
"He has a wealth of business experience and contacts which will help us attract and secure further investment from both the UK and overseas."
Milne added: "Tom helped Grassroot Soccer get off the ground with Bobby Clark's son Tommy.
"This charitable organisation is focused on adolescent health, using the attraction of football to teach children life skills.
"Tom played a pivotal role in selecting AFC to be its first UK partner."