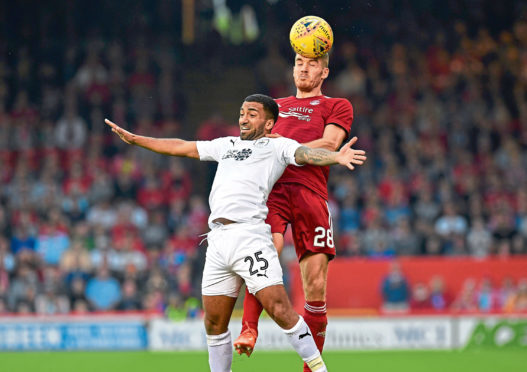 On-loan Watford defender Tommie Hoban missed a season of his career to a serious knee injury and feared that injury hell had returned.
The 24-year-old sustained a knee injury in the 3-1 Europa League extra-time loss to Burnley.
It was only his second game for the Dons having joined on loan for the season from the English Premier League Hornets.
Hoban's Dons debut against Burnley in the first leg was his first start in more than a year having been ruled out with a ruptured anterior cruciate ligament suffered in training last summer.
The fresh injury was to the same knee and was more painful – alarm bells sounded.
Hoban faced a nervous 48-hour wait for the swelling to subside to allow a scan that confirmed the injury was not as bad as feared.
After three games out, he marked his return to action with a goal in the 1-1 draw at Hibs at the weekend.
Now he is focused on retaining his starting slot to face Kilmarnock at Pittodrie on Saturday.
Hoban said: "I have had a very frustrating time with injuries but thankfully it was only a short time I was out this time.
"I had a little knock to my right knee, which I have history with.
"I missed most of last season with an ACL (anterior cruciate ligament) injury to that knee so it was one I had to be careful with.
"When you have been out for that long, then get a knock on it in only your second game back and it swells a bit, you naturally think the worst.
"I was a bit worried after the game and had to wait a couple of days for the swelling to go down so that I could get a scan.
"There was a bit of damage but nothing too bad, which was a relief.
"Sometimes it is hard to tell. When I had the bad injury it didn't actually feel that bad and this time it was a bit sorer but, thankfully, was not as bad.
"Knees can be funny but luckily this time it was all good and wasn't anything too serious.
"Now I am hoping I can knuckle down now and get an injury-free run to push myself on and help improve the team so that we can have a good season."
Hoban netted his first goal for the Dons on the stroke of half-time against Hibs.
It looked destined to be enough for victory until Aberdeen conceded with minutes remaining.
He said: "It is great to score and that was only my fourth senior goal. I would rather have scored, kept a clean sheet and won.
"Hopefully, it is the first goal of a few and next time I score it will be in a win.
"When you put so much into the game and come so close, it is one of the worst feelings in football to not come away with three points.
"It was very frustrating. It is early days and we can improve on our performance. Against one of the strongest sides in the league away from home, we could easily have got a win so we have to take the positives from it. Now we have to make sure we put it right for Saturday and win."
Defender Scott McKenna, 21, was ruled out of the Hibs clash with a torn hamstring and will also miss Saturday's game against Kilmarnock at Pittodrie.
McKenna was the subject of a £3.5 million bid from Celtic that was rejected. The Parkhead side have been warned they would be wasting their time with any further bid for the Scotland cap during this transfer window.
Hoban reckons McKenna is eventually destined for the English Premier League.
He said: "I haven't played too much with Scott yet but it is clear he is a very good player, although still quite young.
"He is only going to improve and I am sure he will get his chance in the Premier League one day."