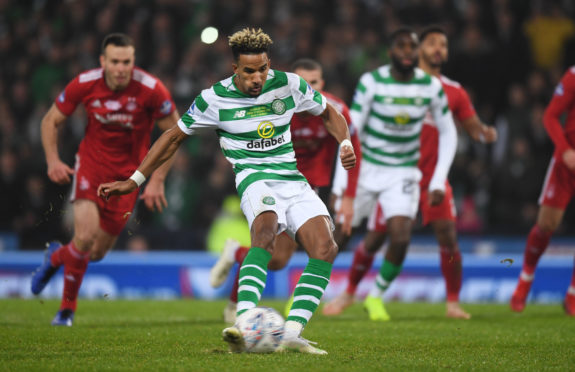 Boss Derek McInnes today blasted the racist abuse directed at Scott Sinclair by a Dons supporter as "shameful" and "embarrassing".
A video has emerged of a supporter in the Aberdeen end shouting vile racist abuse at Sinclair as he readied to take a penalty during the 1-0 Betfred Cup final loss to Celtic.
McInnes insists it is "shocking" any player should be subjected to racism and emphasised Aberdeen FC have worked hard to support anti-racism in football campaigns.
Aberdeen defender Shay Logan has backed Sinclair and called for a life ban for the perpetrator if found.
Sinclair has blasted the abuse, stating: "Absolutely disgraceful for the ignorance of the uneducated fan shouting racial abuse."
Aberdeen FC and Police Scotland have today asked for anyone with information regarding the incident to contact them.
McInnes said: "From our point of view it is shameful that Scott Sinclair, or any player, should be subjected to those sort of comments.
"It is embarrassing. It just shows that for all the campaigns (anti-racism) and everything that is highlighted, all the good that we all do, there is so much more to do.
"As a club we do so much to support any anti-racism campaign. We feel very strongly about it. This is a club for all.
"We do so much to make sure this is a club for all. But every club has supporters who embarrass themselves.
"Whether that is on social media or at an Aberdeen game, or a club game supporting their team."
It is the second time Celtic attacker Sinclair has been subjected to racist abuse whilst in Scotland. He was taunted with a sickening monkey gesture by Rangers fan Paul Kenny during an Old Firm match in April 2017.
The former Manchester City and Aston Villa player later revealed he had never suffered racist abuse before the incident in that Old Firm match last year.
McInnes said: "It is truly shocking in this day and age that players are still subjected to that.
"I have kids myself and it is a totally different environment to when I was growing up when these sorts of comments were a regular occurrence.
"Just because they are not as regular as they were when I was growing up doesn't mean to say it is any less shocking."
Show Racism The Red Card Scotland have slammed the behaviour and urged any fan witnessing racist abuse at football matches to contact a steward or Police Scotland.
A statement read: "Show Racism the Red Card Scotland are saddened to see a video that allegedly shows an Aberdeen FC fan racially abuse Celtic's Scott Sinclair just before he takes a penalty at the weekend's League Cup Final at Hampden Park.
"There is no place for racism in Scotland or Scottish Football and we encourage anyone who witnesses racism or experiences racism to tell a steward or call Police Scotland on 101.
"Such behaviour has no place in a progressive Scotland.
"Racist attitudes are often supported by misinformation, therefore education and the opportunity to talk openly and honestly about these issues is needed now more than ever."
When contacted Celtic declined to comment.
Meanwhile, Aberdeen today face in form St Johnstone at Pittodrie.
McInnes said: "I was delighted with what the players gave me at Ibrox and they got their just rewards with the victory.
"It's the same three points available today and we're going to have to play well against a team who's been in good form.
"We've got it all to do again and it's a big effort physically with a third game in six days.
"Hopefully the confidence from Ibrox will help us try deliver another good performance."