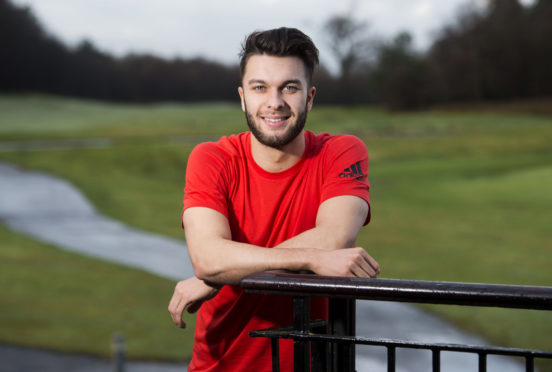 Teenage Dons attacker Connor McLennan today insisted he can handle being pitched in from the start at Ibrox.
The 19-year-old came on for injured Gary Mackay-Steven late in the first half of the 1-0 Betfred Cup final loss to Celtic.
McLennan impressed at Hampden and insists he is capable of shining if pitched in for a starting slot against the Premiership leaders tonight.
Mackay-Steven is ruled out of tonight's match having suffered concussion in a horrific clash of heads in the final.
McLennan is confident he can fill the void vacated by Mackay-Steven.
He has already risen to the challenge this season in scoring a sensational goal on his debut start, a 4-1 defeat of St Mirren on October 6.
He said: "I know I will be ready to play my part and do a job if needed. I have never been to Ibrox before. This season was the first time I had been to Celtic Park as well, even just to watch a game.
"Ibrox is a big stadium with a big atmosphere, but I am more than capable of handling it.
"I didn't expect to start that game against St Mirren, but it came along and I was ready."
McLennan and other youngsters like Lewis Ferguson played with an admirable fearlessness against Brendan Rodgers' Hoops.
Now the Dons will need that same attitude as they tonight bid for a back-to-back Glasgow double over Rangers, having defeated them 1-0 in the Betfred Cup semi-final at Hampden in October.
McLennan insists the semi victory underlined the Dons can get a result in Glasgow tonight.
He said: "They (Rangers and Celtic) know as much as we do that they are going to be in a game when we play them.
"We are not just going down there to get rolled over, we are going down there to get the win.
"That is the way we go into every game, we want the win and know we are capable of getting it.
"The cup final was a huge game and we were disappointed to lose it.
"However, we cannot think about that, we have a huge game at Ibrox and have to get a result there.
"Every time we play Rangers it is a huge game and whoever wins will be delighted, and hopefully it is us."
Having come through the youth ranks at Pittodrie since the age of eight, it was a dream come true for life-long Aberdeen fan McLennan to feature in a final for Aberdeen.
Featuring at Hampden carried further significance as the final was played on father Brian's birthday. His dad was there with the rest of his family to cheer on McLennan.
However, featuring in the final was bittersweet for the teen as it came via a bad head knock to team-mate Mackay-Steven, who was treated by medics for six minutes before being stretchered off and taken to hospital. He was released from hospital on Sunday, but is ruled out of the trip to Rangers.
McLennan said: "It was not a good circumstance for Gary, but thankfully he is alright now.
"I got the chance to show what I can do and hopefully I did well.
"Playing in the final meant a lot for me, it was massive. As a kid that is all you want to do – to play in a cup final with the club you have supported all your life.
"I was so thankful I managed to do that as it was also on my dad's birthday, which made it that bit more special.
"My family were all at the game and I saw them after it.
"It was not just my family, but the 20,000 fans who were there at the final as well cheering us on that made it special.
"My dad has been so important to my career, but all my family have.
"He said he was proud of me and hopefully I did my dad and the rest of my family proud.
"They were all absolutely buzzing for me, that is all they have ever wanted for me, to play in a final for Aberdeen."
Aberdeen have dropped into the Premiership's bottom six and trail league leaders Rangers by nine points.
McLennan is convinced being in the bottom half of the table is merely temporary.
He said: "We are all more confident than ever that position will not last very long. It was a bit of a stop start to the season but there are a lot of games in December. I think we can get right back up the table with a few wins."
Such is the importance of tonight's match, the Dons did not return to the Granite City after the final.
They have remained for the last three days in isolation at their hotel base in Cumbernauld, 15 miles north of Glasgow, to regroup for Ibrox.
McLennan said: "We are away for a long time together so we are always talking and making jokes.
"There is always a good atmosphere, even after the result in the final. The more experienced ones pick you up and we will be ready for Rangers."
Someone under no doubt teenager McLennan is ready to start at Ibrox if required is assistant manager Tony Docherty.
The Dons No 2 said: "Connor is a confident young man and knows he is at that level now where he can contribute to that level of game.
"We see that in training, so no hesitation at all (in starting him against Rangers)."