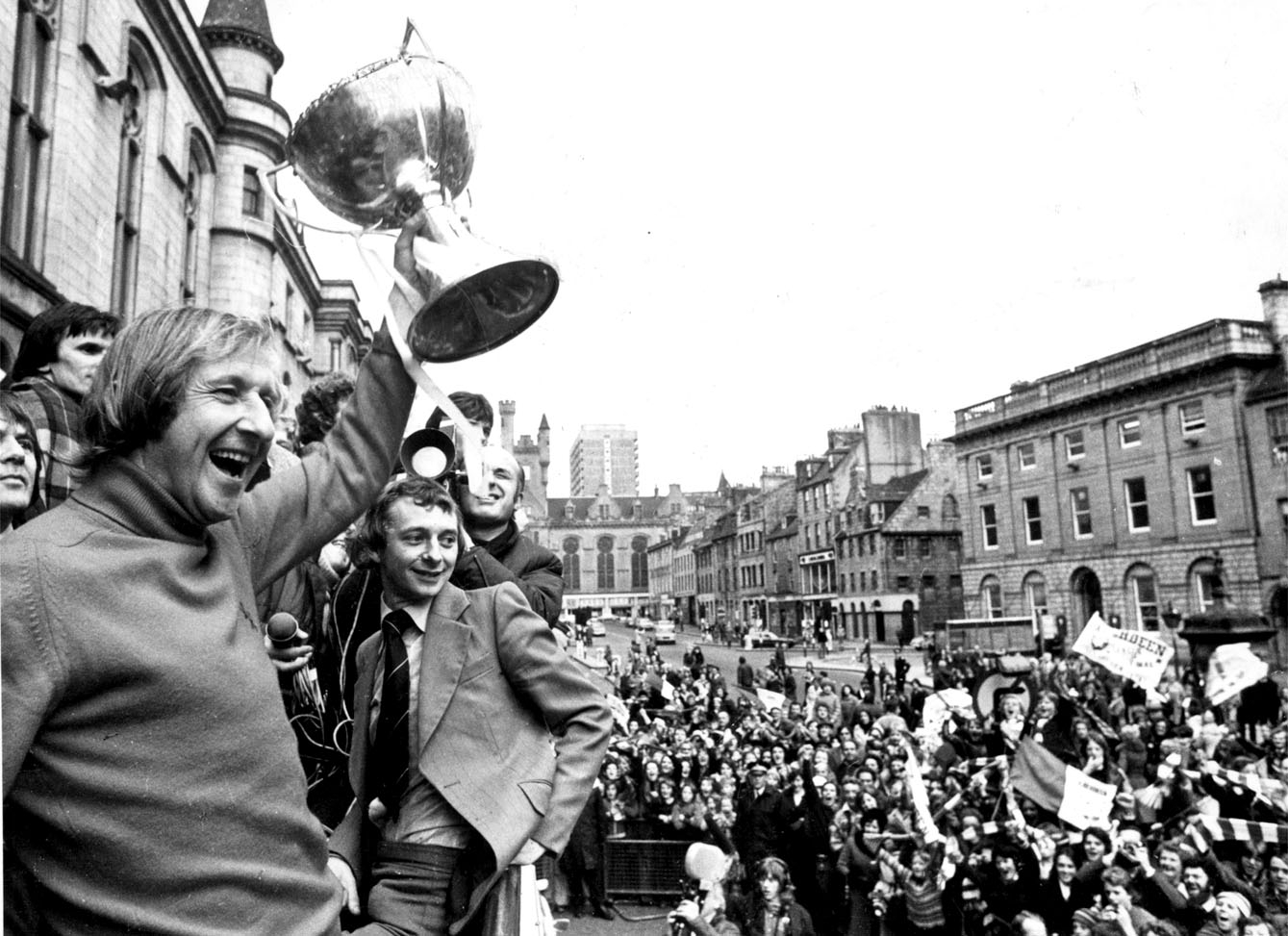 Drew Jarvie was there when Jocky Scott and Paul Mason etched their names into Dons folklore with Hampden heroics against Rangers.
Now he wants to see one of the current Aberdeen squad become a hero by helping dump the Gers in the League Cup semi-final at the national stadium.
The Reds have played the Gers at Hampden in the League Cup on numerous occasions.
Two of the most memorable were in 1976 and 1989.
In 1976 Jarvie played and scored as Aberdeen thrashed Rangers 5-1 in the last-four – with Scott hitting a hat-trick.
Then, in 1989, the Dons met the Govan team in the final. Jarvie was a coach under co-managers Alex Smith and Scott when Mason's brace sealed a 2-1 victory for the Reds.
After witnessing Scott and Mason's heroics, Jarvie – who played for the Dons from 1972 until 1982 – would love to see one of the current squad do something similar.
He said: "Jocky got a hat-trick and they were all really well-worked and Jocky took them really well.
"One of them was a free-kick routine that we had worked on, and his first was a great finish, but the best goal of the night was the fourth, which was my volley from the edge of the box.
"I remember watching the footage afterwards and Archie Macpherson was commentating and he said 'oh, the best goal of the night by Jarvie'.
"Joe Harper got his goal as well. We were delighted with the goals we scored that night.
"It was another good Aberdeen side in 1989; we had a few Dutch players in the squad then. Theo Snelders was in goal and Willem van der Ark came on in the final and just after the final we signed Hans Gillhaus.
"Over the next couple of years we signed Peter van de Ven and Theo ten Caat.
"Alex Smith and Jocky Scott recruited really well, they knew a Dutch scout who worked in Holland. Alex had been in touch with him and we managed to pick up some really good players.
"Paul Mason wasn't Dutch but he was playing in Holland at the time, he was a steal at the price we paid for him.
"He wasn't just a great player, but he had a great football brain and was a steal at £400,000 and he showed that with his two goals against Rangers.
"It would be great to see somebody else make themselves a hero and the game is crying out for someone to score goals, and if someone can get two or three goals on the day that would be great.
"From what I've seen, there isn't really a recognised goalscoring striker in the team right now. We've had Stevie May, Sam Cosgrove and James Wilson up front this season.
"What I would say is that James Wilson looks like one that could do something for us because he has a bit of pace and he has quality.
"But he needs games because he has been out with injury. He needs games but he is capable of doing something if we can get the supply into Wilson.
"Wilson could be the one to do it for the Dons in the semi-final."
For Jarvie the triumph in 1976 is particularly special as it was the first trophy he won in senior football and he went from villain to hero in the 2-1 win over Celtic in the final.
He said: "I brought Kenny Dalglish down for their penalty and I actually played the ball.
"When you see it, I knocked the ball away and Kenny was good at rolling over your leg and he scored the penalty.
"But thankfully I managed to get the equaliser and it was a great move.
"Dom Sullivan made a run down the right and crossed to the back post, Joe was there to meet it and I managed to get into the box; Joe saw me coming, knocked it into my path and I managed to put the ball in the net.
"In extra-time we were a bit fortunate because Celtic had chances but they didn't take them.
"Then Davie Robb came on for me and managed to score the winner and it was great.
"We beat Rangers and then Celtic to win it, which was a good achievement.
"That run was great because it was the first time I had won anything in senior football so I was absolutely over the moon."