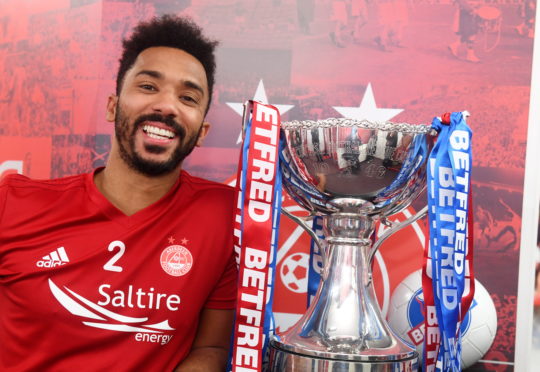 Aberdeen right-back Shay Logan today insisted he has no-ill feeling towards Rangers, or any other club, despite recent social media controversy.
In the aftermath of the 1-0 Betfred Cup semi-final defeat of Rangers, a Snapchat video was leaked online in which Logan was recorded by one his friends swearing about the Ibrox club.
Dons boss Derek McInnes subsequently discussed the matter with the 30-year-old and underlined it should be a lesson to all Reds players to be careful what they say.
Speaking for the first time since that social media storm, the full-back insists it was banter and there was no malice towards Rangers.
He also revealed it was not the friend who filmed him who put the footage online but someone he didn't know who wanted to put him in a "bad light".
Logan is set to line up in Sunday's Betfred Cup final with holders Celtic at Hampden.
The full-back was controversially sent off at Parkhead in the final game of last season when the referee deemed he had over-celebrated a 1-0 win that secured a Premiership runners-up finish.
Aberdeen appealed the red and two-game ban but they were upheld.
He said: "The Snapchat thing, it was my friend it was leaked from who is a big Rangers fan.
"We have banter all the time but it is just one of those things that it got out there.
"People will always try to see the bad in it, whereas there was nothing bad in it.
"I have no problem against anyone.
"It is not in my nature to do that. People may think I do, but I actually don't.
"It was just a thing that escalated and I am sorry if it offended anybody or anybody took it the wrong way.
"But for me, if you see that you can see it is two friends having a bit of banter and that is it.
"Everybody who knows me understands that I literally have nothing against any club or any player.
"Not just in Scotland.
"I am a big Manchester City fan but I don't hate Manchester United.
"I have a joke with my friends about Manchester United, because they support Manchester United.
"It is never anything bad towards them or their supporters."
Following an internal investigation at Pittodrie, Dons boss McInnes insisted Logan was guilty only of being too trustworthy and should choose his friends more carefully.
Asked if he had talked about the incident with the Rangers-supporting friend who filmed the footage, Logan said: "Yes. But I understand it wasn't him who actually put it out there.
"It was somebody who took it off his Snapchat.
"You get people like that in all walks of life.
"Somebody wants to put it out there to paint a bad picture of you.
"That is going to happen. Not just to me, that can happen to anybody.
"The person who did it – do I know him? No. Do I care about him? No.
"What's he tried to do? He tried to put me in a bad light.
"That's fair enough if that's how you get your kicks.
"But at the end of the day, coming from me, that was never put out there to be anything bad towards the club or anyone who is involved with the club.
"Because I am not that sort of person. It was just two friends having a laugh."