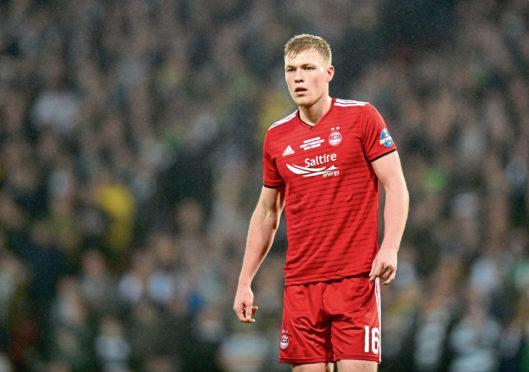 Aberdeen boss Derek McInnes insists he fielded a starting 11 capable of securing the Betfred Cup at Hampden.
There was a surprise decision to go with rookie striker Sam Cosgrove, who has netted just two competitive goals since signing for the Reds in January.
Cosgrove has not started for the Reds since a 4-1 Premiership defeat of St Mirren on October 6, where he scored a brace.
However, he was given the nod ahead of on-loan Manchester United striker James Wilson, rising star Bruce Anderson and Stevie May, a £400,000 summer 2017 signing.
Aberdeen's cause was not helped by the loss of winger Gary Mackay-Steven through a head injury which required him to be hospitalised.
McInnes was also frustrated at referee Andrew Dallas' decision to award a penalty against Dom Ball for handball.
He said: "Any final defeat is sore, but I put a team out there that gave us a chance to win a trophy.
"I am really proud of my team and we set them up in a way and tried to give ourselves a chance to take a trophy back to Aberdeen.
"Unfortunately that wasn't the case.
"There is no doubting Celtic have the bigger, better squad and the better players.
"However, my players gave absolutely everything.
"We had to give them some sort of structure to try to contain and control Celtic.
"We dictated a lot of who was in possession of the ball with Celtic and restricted them to very few opportunities.
"That is not easy, but we still wanted to break quickly, counter and make sure we had real spread in the wider areas.
"We played with a lot of tenacity, aggression and common sense."
The final was marred by a sickening head knock sustained by Mackay-Steven in an accidental collision with Celtic defender Dedryck Boyata.
Mackay-Steven was knocked unconscious and play was held up for six minutes while he received treatment. He was stretchered off and taken to hospital.
Mackay-Steven will miss Wednesday's trip to Rangers, but it is hoped he will be given the all-clear to face St Johnstone on Saturday.
McInnes said: "I saw Gary's family down at the dugout and there was obvious concern there.
"Word got relayed back to me in the dugout that he was unconscious and there was a certain urgency to get the medics on.
"Thankfully he was sitting up in hospital and was getting the tests done.
"It will hopefully be a straightforward concussion, although Gary will miss the next game.
"I am gutted for Gary as he was so looking forward to the final and the opportunity to shine."
Celtic grabbed the lead moments after play was resumed following Mackay-Steven's injury.
They could have gone further ahead in the second half when referee Dallas awarded a penalty when ball hit Ball's hand outside the box.
The spot-kick was saved by keeper Joe Lewis.
McInnes was raging at the decision and insists Dallas got another key call wrong as Celtic's goal hero Ryan Christie, who spent 18 months on loan at Aberdeen, should have been sent off later on.
He said: "We had to rely on Joe for a penalty that should never have been awarded.
"If we have not got a keeper like Joe Lewis, it could be 2-0 and far more difficult.
"It was clearly outside the box.
"The penalty wasn't crucial, but it so well could have been.
"While I don't want to see anybody get sent off and I love the bones of Ryan Christie, he is a great boy – I felt there was another yellow card challenge from Ryan on the halfway line when Dom Ball breaks.
"The referee indicated Ryan had played the ball, but he clearly hadn't.
"That was a big decision and the referee was in a brilliant position to see it was another yellow.
"I still don't understand how he said he played the ball there.
"Celtic down to 10 men at that period may well have been different.
"It may seem churlish, but the fact of the matter is a couple of decisions were really harsh on my team.
"It is what it is, Celtic have won and we congratulate them for that."
McInnes raised his concerns over the decisions to Dallas after the match.
"I was disappointed in a couple of things and mentioned it to him," he said.
"In any game, especially big games, you need those key decisions which can be crucial."
McInnes also had words with Celtic's stand-in skipper, Swedish international Mikael Lustig, at full-time.
He was disappointed at the way Lustig goaded teenage Dons midfielder Lewis Ferguson at the final whistle.
McInnes said: "I thought it was a bit unnecessary, his (Lustig's) reaction to young Lewis Ferguson.
"A grown man and international running up into Lewis' face and laughing and all the rest of it.
"We have seen players from other clubs be yellow carded for that and a lot is made of it.
"It was just disappointing and I tried to make that point.
"I thought he was trying to goad young Lewis and there was absolutely no need for it.
"Lewis kept his temperament well.
"There was no big hoo-ha about it as I was trying to defend young Lewis.
"And if he was trying to get a reaction from Lewis, thankfully he was the grown up in the situation."