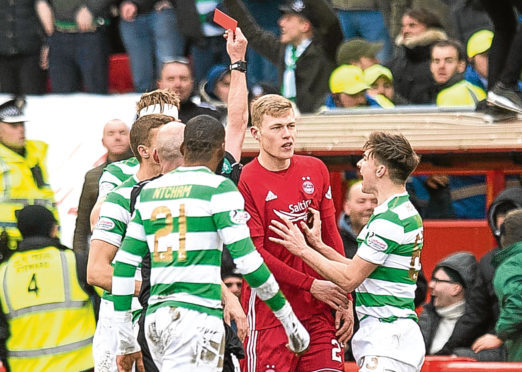 Dons boss Derek McInnes today vowed to stand by Sam Cosgrove and insisted his nightmare debut will not define his Pittodrie career.
The January signing was red carded after just eight minutes for a reckless challenge on Scott Brown in the 2-0 home defeat to Celtic.
He picked up an immediate two-game suspension and was ruled out of yesterday's clash at Motherwell – which was subsequently postponed due to adverse weather.
That suspension will now roll on to begin in next week's game at Partick Thistle.
The 21-year-old is eligible for Saturday's Scottish Cup quarter-final clash with Kilmarnock at Pittodrie.
Striker Cosgrove had been introduced as a substitute for his Dons bow having signed a two-and-a-half year deal from Carlisle United on transfer deadline day.
McInnes admits the challenge on Brown was a reckless one that disrupted the Dons' momentum.
Former Wigan Athletic centre-forward Cosgrove also accepted its impact as he was gutted in the dressing room in the aftermath of a 10th successive defeat to Celtic.
However, McInnes has urged the new Don not to beat himself up about the mistake and to focus on making his Reds career a success – despite the disastrous beginning.
McInnes said: "Sam was very down and it is up to us to support him and get round him as we will do. Sam is one of us.
"It was disappointing and he feels a big responsibility for the way the game played out for us.
"We are disappointed for him and ourselves and he has to take the consequences of it.
"Unfortunately for Sam it was just compounded by the fact it was his debut.
"But it is not going to define his time here.
"However, he is aware of his responsibilities."
Aberdeen were a man to the good before Cosgrove's dismissal as Mikael Lustig had been sent off for a second yellow card with 15 minutes of the game remaining.
However, any hope of making that extra man count disappeared soon after when the numbers were evened up with Cosgrove sent packing.
For McInnes there is no dubiety or doubt about referee Bobby Madden's decision to show a straight red to Cosgrove.
The striker lunged into his challenge as Hoops skipper Brown was getting up from a tackle made by Anthony O'Connor.
Dons boss McInnes admits he would be unhappy if one of his players was hit with a similar tackle.
He said: "Without doubt the red card was the right decision.
"However, I have an element of sympathy for him.
"It was a rash tackle, a poor challenge on Scott Brown and a moment of recklessness.
"It was a poor challenge and I would not be happy with that challenge on any of my players.
"I don't think it was the red mist or anything like that as Sam actually started the game okay. He was quite calm and it was just a poor challenge.
"Unfortunately for Sam and us it came at the wrong time in the game as it killed our momentum a little. Celtic were hanging in a wee bit at that stage and an equaliser seemed likely.
"For Sam, because it was his debut, people will remember that."
Celtic boss Brendan Rodgers claimed Cosgrove's challenge was "a bit naughty".
Scotland international Kieran Tierney claimed it ''could have caught him a sore one".
McInnes said: "I have had a chat with Sam.
"I have said to him there is no one in the building who has not made a mistake and he just has to deal with the consequences.
"There is not a player in there who hasn't made some sort of mistake or some bad judgement call on the pitch."
The Dons gaffer is talking from experience.
Less than 30 people have been sent off in their English Premier League debuts.
McInnes is one of them. He was red carded in a 1-0 defeat to Manchester United at Old Trafford in West Brom's first game back in the top flight.
He would go on to make more than 30 starts in the top division for the Baggies that season.
There will inevitably be self-recrimination and soul searching for Cosgrove after his debut went so wrong.
However, the striker has already netted a couple of times for the Aberdeen Under-20s since signing on.
McInnes initially indicated the centre-forward was one for next season and he had initially intended to land him in the summer.
When the opportunity arose to secure more than a pre-contract deal, both parties and Carlisle agreed.
It is testament to how well Cosgrove has clearly done in training and with the U20s that "one for next season" was pitched in against the league leaders.
McInnes' advice for the young striker is accept the responsibilty of your actions, learn from it then move on.
It can be just a minor blip in a Pittodrie career that will extend to at least summer 2020, the player having signed a long-term deal from Carlisle.
"Don't over think it," said McInnes.
"Just get your head down and hopefully Sam will still have a good career with us.
"Sam cannot beat himself up too much about it."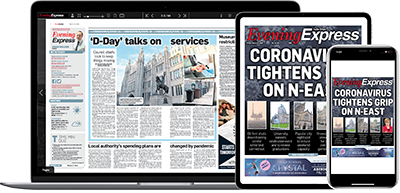 Help support quality local journalism … become a digital subscriber to the Evening Express
For as little as £5.99 a month you can access all of our content, including Premium articles.
Subscribe