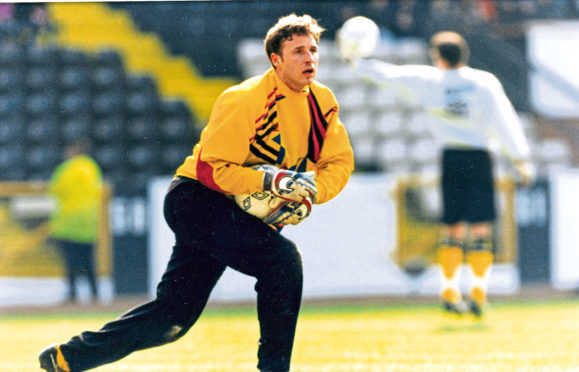 Michael Watt was between the sticks when Aberdeen upset a star-studded Rangers side in the 1995 League Cup semi-final.
And Watt insists that the Dons will be favourites when the teams meet again this weekend at Hampden in another last-four clash.
Looking back 23 years to when the Reds last met the Gers in a cup semi-final, former Pittodrie keeper Watt admits Roy Aitken's team were not fancied by many to reach the final – which they went on to win by beating Dundee 2-0.
Walter Smith's Gers had won the last seven Premier Division titles and on that night in October 1995 their team included the likes of Ally McCoist, Gordon Durie, Oleg Salenko.
Despite that, the Dons overcame the odds to win with Billy Dodds' double putting them 2-0 up before Salenko's strike five minutes from time made for a nervy finish.
Reflecting on that night Watt, now an investment specialist based in Glasgow, believes Aberdeen were underdogs that night – but doesn't think that is the case on this occasion.
The 47-year-old said: "We were underdogs, people probably expected Rangers to win going into that game.
"But at the time we always knew we were capable of beating the Old Firm.
"You always knew going into a game against Rangers then that it would always be down to key moments in the game. It was always going to be really nip and tuck.
"Rangers had some pretty special players like Ally McCoist and Paul Gascoigne as well as Andy Goram in goal.
"But that night, we had good possession and it was a relatively quiet night for me.
"I remember early on McCoist had an opportunity that just went past my left-hand post.
"That was slightly worrying, but then we seemed to come into the game and played with a lot of confidence.
"It wasn't the busiest night I've ever had.
"Aberdeen have shown consistently in recent years that they have been the team to challenge and put pressure on Celtic.
"This season they maybe have not had the start they would have wanted – but it's Rangers that are going in as the underdogs in my mind.
"Aberdeen, at the moment, when they play well can score quite freely which is important."
For Watt, the 1995 League Cup triumph was a highlight in a career that also took in spells at Norwich and Kilmarnock.
He says the Dons felt the pressure in the final against First Division Dundee as they looked to win the first silverware since 1990.
Watt reckons it's different for today's Reds who lifted the League Cup in 2014, have reached two finals since and finished second in the Premiership for the past four seasons.
He added: "Winning the League Cup was a career highlight for me because it was the only trophy I had won with Aberdeen.
"For the club, it had been five years since we'd won a trophy.
"We had a long period where we hadn't won anything after winning trophies regularly.
"When you have that a bit of pressure builds and I can remember feeling that going into the final in 1995 where we were definitely the favourites against Dundee.
"We had a lot of pressure going into that game, partly because of the time it had been since the club won a trophy and it meant so much.
"Winning the League Cup in 2014 was a big hurdle because it had been 19 years of waiting. That was the real hurdle for the club to get over."
Watt also believes Aberdeen goalie Joe Lewis has a vital role to play on Sunday and believes his composure could be critical in the white-hot Hampden atmosphere.
He said: "Your goalkeeper always has an important role to play and Joe is a big figure in the Aberdeen team.
"He's got a real presence and a calmness about him. That is the sign of a good shot-stopper when they have a real presence about them.
"When you've got somebody, who gives you that calmness and presence between the sticks, it is always really important.
"There's that added bit of tension in games like this, but also excitement which helps you.
"There can be that nervous tension because these League Cup games do feel different."