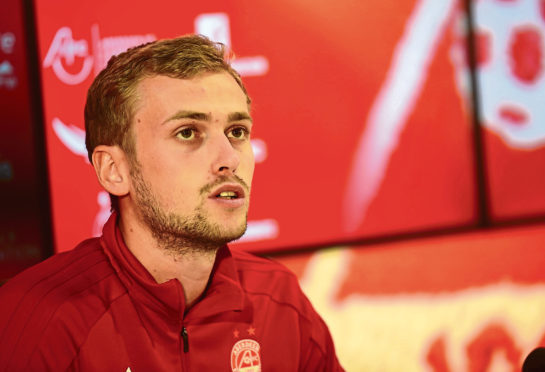 Aberdeen are confident they are in a far stronger position to land top signings due to the funds raised by the DNA fans' funding scheme.
So far more than 6,200 supporters have signed up to AberDNA with the club confident that will continue to expand with the target of 7,000 by the end of the year.
Aberdeen FC commercial director Rob Wicks insists without the DNA cash it is unlikely the club would have been in a position to make a move for a Manchester United player just six months ago.
Fuelled by AberDNA, where the cash raised goes directly into strengthening boss Derek McInnes' bid for success, the Reds secured striker James Wilson on loan from Premier League United for the season.
Wicks confirmed there was still DNA cash available to strengthen further before the window closes tomorrow – with the Reds today set to secure a season-long loan deal for Derby County's Max Lowe.
Wicks said: "Going back six months ago I don't think we would necessarily have been having a conversation about signing a player from Manchester United.
"AberDNA has certainly put us in a far stronger position to strengthen the squad.
"As we always said right from the beginning the money was always going to be ring-fenced for football operations. Whether that was for the first team, boosting sport science or towards the youth development academy.
"You see what we have been able to achieve with bringing the likes of James Wilson to Aberdeen in the last couple of weeks.
"It is money from DNA that has gone towards that player and bringing him to Aberdeen.
"James has only had a couple of minutes on the pitch against Hibs at the weekend but I think we will start to see the fruits of his labour and the efforts of DNA in the fixtures ahead."
Aberdeen chairman Stewart Milne revealed in July that AberDNA had already raised £600,000 for the first team which will be used over the course of the next 12 months.
Asked if there was still DNA money to secure further signings Wicks said: "Very much so.
"But it is important for people to realise that the DNA scheme is subscription based so all that money is not sitting with the club in a bank account earning interest every day.
"It is subscription-based income that comes in on a monthly basis so we have to be conscious of that as things develop. We are delighted with how the scheme has rolled out and how it has been received."
Aberdeen have secured seven signings in the summer with McInnes set to add to that tally before the window shuts tomorrow.
During the summer window the Reds also rejected a £3.5m bid from Celtic for Scotland international defender Scott McKenna. Did the funds generated by AberDNA put the Reds in a stronger financial position where they could knock back Celtic's overtures?
Wicks said: "To some extent.
"We know Scott's worth, we have a value in our mind.
"He has demonstrated in the way he has played not only for Aberdeen but also captaining Scotland that he has an enormously bright future.
"I would say it is less about DNA but more about Scott's ability and value.
"Right now he is not a player who is for sale.
"The DNA funding is more there to enable us to attract players who can strengthen the squad rather than be a pot at the end of the rainbow that we can keep in reserve and knock back the likes of Celtic and anyone else who comes knocking at our door for the time being.
"But we think Scott has an enormously bright future and would like to think he would be at the club for some time."
AberDNA was launched this summer with four packages that come with various benefits – Premium (£18), Standard (£12), International (£18) and Under-12 (£8).
Hearts run a similar scheme. Foundation of Hearts has more than 8,000 members and has raised more than £6.5m.
Hibs Supporters' Limited has contributed £525,000 to the football budget.
Wicks said: "The manager has said how much he values the support of the fans and what they have done to secure those funds for him to use.
"We look to build on that.
"This is not a membership programme that is going to come and go.
"It is going to grow and build.
"We have only scratched the surface of number of members, particularly from an international perspective. We have the supporter engagement team talking to people in Australia, Dubai, Canada, the United States, South Africa – across the board, bringing them on."