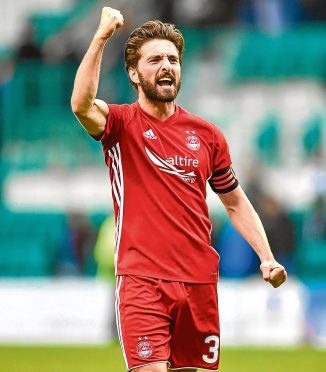 Skipper Graeme Shinnie admits one of the Dons' fundamental philosophies is now regarded as a cliché – but only because it is one that continues to be effective.
The mantra "take it one game at a time" was utilised by the Reds throughout the 2015-16 title challenging season.
Now the Dons find themselves in similar territory, just three points behind defending champions Celtic in the Premiership.
Again it will be adopted as Shinnie and his team-mates will not glance at the bigger picture of pushing Celtic – they will only look at the next 90 minutes, this time against Motherwell on Saturday.
That tunnel vision is particularly relevant now as speculation continues over manager Derek McInnes and the vacant managerial position at Rangers.
The Ibrox club recently released a statement confirming they will take their time over appointing Pedro Caixinha's successor.
Rangers confirmed they have received "numerous" applications, but have yet to approach any candidates.
McInnes is still favourite to take over and is understood to top a list of candidates the board will assess throughout this week.
For Shinnie and his Pittodrie team-mates, speculation surrounding their boss will not be allowed to cloud the focus on the next game.
He said: "We are just trying to focus on trying to win as many games as we can, that is all we think about.
"It is an old cliché that everyone says but it is so important in football.
"You cannot look ahead, you need to be focused.
"We just want to keep winning as much as we can."
There is a Russian proverb – 'if you chase two rabbits, you will catch neither one'.
Essentially all attention must be on the job in hand – for the Dons to win the next match.
For Shinnie, that single-mindedness of thought is pivotal to any bid for success. The ability to block out all outside factors, be it praise, criticism or speculation on the manager or players' futures.
All have the potential to cause fluctuations in emotions, dips in form – all must be blocked out.
Asked if that is something that has to be learned, he said: "Yes, definitely.
"You just have to stay focused on games.
"Celtic did that last season when they went unbeaten and they have done it again this season.
"It is something you need to focus on – you have to keep grinding out wins no matter how they come.
"If you are playing well, or not playing well, you still have to grind out that win."
Rangers have yet to make an approach to Aberdeen regarding McInnes. Those within Pittodrie hope it stays that way although the club's board are braced for any potential contact.
If an approach were made it would take £800,000 compensation to secure McInnes. That is if he decided to leave, which considering the Ibrox club's perilous financial position is far from a given.
Shinnie said: "We don't determine speculation or what is written. It is all about the job in hand and working towards the next game
"The players don't get caught up in that and, to be fair, the manager hasn't really got caught up in it either."
Following the international break the Premiership will resume at the weekend.
Shinnie was in Scotland interim boss Malky Mackay's squad for the 1-0 friendly win over Holland at Pittodrie.
The 26-year-old Aberdonian was an unused substitute although both Kenny McLean and Ryan Christie started the game.
Following the time away with the Scotland squad it is back to domestic action as the Reds aim to bounce back from a frustrating 2-2 draw with Hamilton away from home.
Aberdeen had fought back from a goal down to lead 2-1, but could only hold the advantage for 90 seconds.
Shinnie insists Aberdeen have proven an ability to recover quickly from set-backs.
He said: "We bounced back from the defeat to Celtic (3-0) by getting a win against Ross County. Now we want to get a win to get that momentum going again."
Aberdonian Shinnie reached a career landmark in that Ross County match – it was his 300th senior appearance, spread between the Reds and Inverness.
Shinnie has already won the Scottish Cup with Inverness, and wants silverware with the Dons.
He said: "I have been playing quite regularly for the last few years. I am still only 26 so hopefully there are a lot more to come.
"I have enjoyed my career so far.
"I had a great time at Inverness and won the Scottish Cup.
"I am fortunate to have had the career I have and getting the move to Aberdeen was a massive achievement for me.
"I am really enjoying my time at Aberdeen and am very proud to be captain of this football club.
"I would love to win a cup here."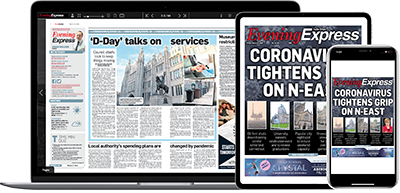 Help support quality local journalism … become a digital subscriber to the Evening Express
For as little as £5.99 a month you can access all of our content, including Premium articles.
Subscribe