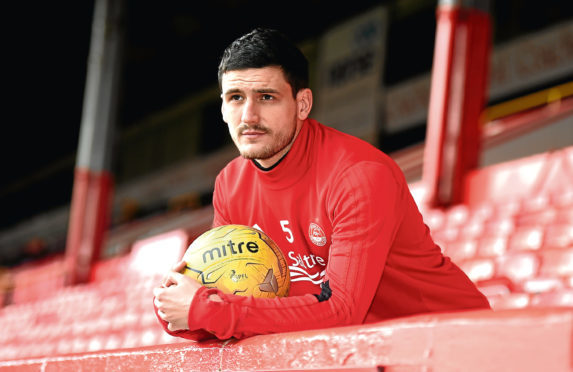 Anthony O'Connor reckons the Aberdeen squad owe manager Derek McInnes a good performance.
After back-to-back 2-0 losses to Hibs at Easter Road and Celtic at Pittodrie, the centre-back, who can also play in midfield, said the players are due a strong display for boss McInnes and assistant Tony Docherty.
O'Connor, who is out of contract this summer but has not yet decided on his future, had hoped to deliver that showing for the manger and his assistant tonight at Fir Park against Motherwell.
However, the game was postponed this morning because of the wintry conditions that have engulfed most of Scotland in recent days.
O'Connor believes the players owe the management team a good display because McInnes and Docherty take the flak when the Dons suffer defeat.
The 25-year-old said: "I think we owe the manager and Tony Docherty a performance.
"They stick their necks out for us every week and if results don't go our way they always seem to take responsibility for it, which they shouldn't do.
"It's the players' responsibility as well and we deserve to give them a performance and get back to winning ways.
"Certainly against Hibs we let him down because he sticks his neck out for us every week.
"He's a top, top manager and I can't speak highly enough of him and Tony Docherty, personally and also for the team.
"I know the lads feel the same way and certainly they are going to go on to bigger things in the future. There's no doubt about that – they're not going to be at Aberdeen for the rest of their lives.
"But while the manager is here at Aberdeen he gives his all, he loves the club and day-in, day-out his motivation to drive the players is unbelievable.
"I feel like we let him down against Hibs, and it was a bit better against Celtic.
"We had chances, like he said – it was a good team performance, whereas against Hibs we probably went out as individuals.
"We didn't have that team performance where we went out to win the game together.
"He was happy with us being a strong team against Celtic and being hard to beat.
"We lost the game but we had good chances and could have scored goals.
"It's important for ourselves that we win to get the confidence back up and also to give the manager a performance."
The Dons' next chance of winning is on Saturday at Pittodrie against Kilmarnock in the Scottish Cup quarter-final.
In the league Aberdeen's recent defeats have allowed Rangers to overtake them and move into second place in the Premiership.
But O'Connor insists the Reds are still the nearest challengers to champions and league leaders Celtic.
The Irishman doesn't care what the doubters say and wants to prove the Dons are still Scotland's second force.
He said: "People can write the team off all they want.
"I don't take notice of what anyone says – we know we're a good team and we know we've got good players.
"You win some and you lose some and the last couple of weeks have been disappointing.
"There are ways to lose games and the way we lost to Hibs was not the way to lose a game.
"You can lose a game by fighting and showing real desire to win and we didn't do that against Hibs.
"That's the most disappointing thing.
"That's why people are putting a bit of doubt on us and saying we're not picking up points against the big teams in the league – which we haven't done this season, we've lost all our games against Celtic and Rangers.
"It's important now when people are doubting us that we win a few games so we can say 'pipe down, we're still here'.
"We get on with the job."
O'Connor added: "This club has done unbelievably well in the last few seasons and, going back to the gaffer again, he has done unbelievably well since he's been here.
"He's been to three cup finals, won one and lost two, three second place finishes and he's on the verge of another one so he's done unbelievably well.
"He wants to do the same again and his motivation every day is that the club have got to be finishing as high as we can.
"It's not 'oh, Rangers are starting to come back so we'll just try to carry on and win as many games as we can.'
"That's not the way he looks at things, his motivation is that we finish as closest challengers to Celtic. If we can't get close to them then we are finishing behind them.
"We're all the same as players, we want to be finishing as close to Celtic as we can.
"It's going to be a tough run in to the end of the season – three clubs are going to be fighting it out for second place.
"But hopefully if we have the right mentality and play to what we're capable of then I've no doubt we can finish in second place."
With Aberdeen's match against Motherwell postponed and Rangers beating St Johnstone last night the Gers are six points clear of the Dons in second, although they have played a game more.
O'Connor knows the Reds are in a battle to remain Celtic's closest challengers over the last 10 Premiership games of the season.
But he insists that battle is motivating the Dons.
O'Connor said: "We know we've got a fight on our hands which is motivation in itself.
"We're fighting to finish second and that's got to be the aim. The title race is in Celtic's hands and it will take them to fall to pieces for us to have any hope.
"For second place we've got a fight on our hands, it's tougher than last season with Rangers ahead of us and Hibs just on our tail.
"It's important we try to get back to winning ways as fast as we can. There's no room for error."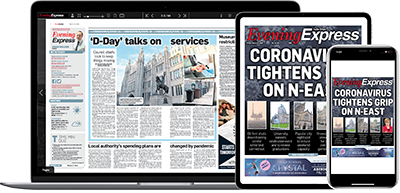 Help support quality local journalism … become a digital subscriber to the Evening Express
For as little as £5.99 a month you can access all of our content, including Premium articles.
Subscribe