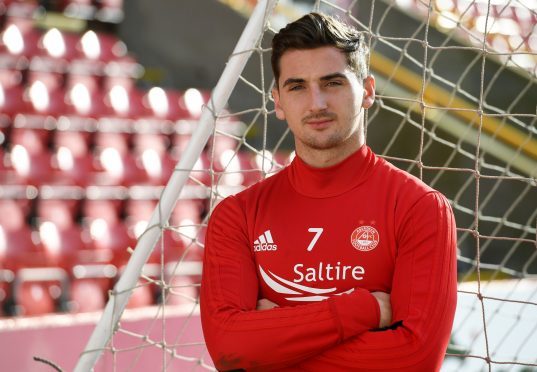 Kenny McLean has spoken on his decision to leave Aberdeen, but the midfielder wants to go out on a high – starting tonight by beating Celtic.
It was announced McLean will leave Pittodrie next summer when his contract with the Dons expires.
Speaking exclusively to the Evening Express, he said: "I spoke to the manager about it and I said that I see my future elsewhere, that's the only thing I've got to say on the matter.
"It's in the back of the mind, but it's not one I'm focusing on. I've got plenty of things to look forward to this season.
"My full focus is on Celtic tomorrow and the rest of the season going forward and doing well for Aberdeen."
The 25-year-old joined the Reds in February 2015 in a £300,000 transfer from St Mirren and, after more than two-and-a-half years in the Granite City, he has decided to move on.
McLean has made 127 appearances and scored 16 goals, as well as winning his first Scotland cap in a friendly against the Czech Republic in March of last year.
He has enjoyed his time with Aberdeen but believes it is now time for a change.
Reds manager Derek McInnes had been keen to keep McLean, but it is not yet clear where he will be moving to next summer.
McLean said he had not considered where he would be plying his trade after leaving the Dons.
Rangers are thought to be interested in the midfielder with the Ibrox side having a bid of £300,000 rejected by the Reds in the summer.
Moving to an English Championship club may be another option open to McLean, but he insists he hasn't thought about it yet.
He added: "I've not looked that far. "I've had the chat with the manager and it's been put to one side.
"I just feel that my ambition is to go elsewhere and further my career there. "I haven't looked beyond Aberdeen, so that's where I'm at with it."
McLean also believes it was important to sort out his future early in the season rather than allow it to drag on throughout the campaign.
Last season the future of captain Ryan Jack went unresolved until he eventually announced his decision to leave the Granite City and join Rangers in May after earlier giving McInnes his word that he would not be going to the Govan outfit.
McLean, though, has made his decision public far earlier in the campaign.
He believes that his manager McInnes deserved honesty from him early in the season.
McLean said: "It has been seen where it can get a bit nasty if it drags on.
"I've always been honest with the manager and the staff because he has been excellent with me. "He deserved that honesty from me and that's where it's at. "We've spoken about it and now it gets put to one side, it's not an issue for me and it's not an issue for the club.
"So going forward my focus is on doing well here and if my time is up at the end of the season, I want to go out on a high."
McLean also believes he has improved significantly since arriving from St Mirren in 2015.
He credits boss McInnes, assistant manager Tony Docherty and the rest of the Pittodrie coaching staff for helping him progress.
When asked if about his improvement, McLean said: "I think I have improved a lot.
"Under the manager, Tony Docherty and the staff I have definitely improved and it's down to them. "I've loved my time here, I've always got on with them and had a really good relationship with them. "It's a great club to be at and I'll continue to enjoy myself here."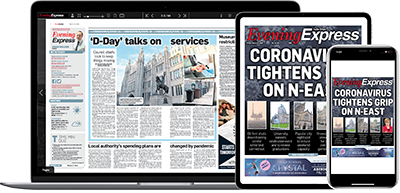 Help support quality local journalism … become a digital subscriber to the Evening Express
For as little as £5.99 a month you can access all of our content, including Premium articles.
Subscribe