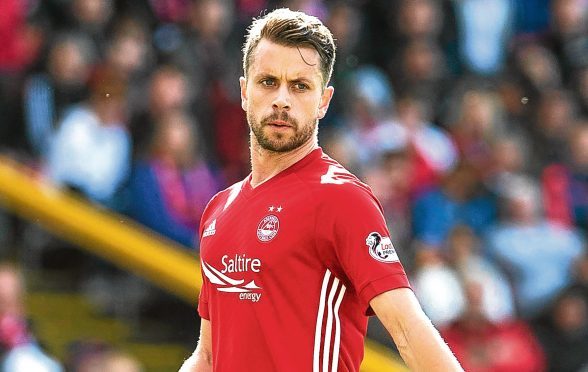 Dons boss Derek McInnes today insisted Kari Arnason can use Aberdeen to ensure he goes to the World Cup on a high.
Defender Arnason, 35, helped Iceland reach the World Cup in Russia next summer by topping their qualifying group.
Iceland, population 332,529, have become the smallest ever nation to qualify for the World Cup which follows up their Euro 2016 qualifying success where they reached the quarter-finals, shocking England 2-1 on the way to the last eight.
Summer signing Arnason started both qualifying wins against Turkey (3-0) and Kosovo (2-0) to secure qualification.
He has impressed at centre-back for the Dons in recent games and McInnes reckons the Reds can only benefit with a World Cup looming for the centre-back.
Arnason is out of contract at the end of the season but McInnes insists it is too early to discuss a new deal to ensure he will still be at Pittodrie after the World Cup.
McInnes said: "It is great for Arnie and Aberdeen will get the long-term benefits of him going to the World Cup for the rest of the season. He will have that focus and motivation to make sure he is ready for the World Cup because it will be very important for him to go to Russia in good form.
"Arnie will want to keep his performances high going into games for us as well as having his focus on doing well at the World Cup.
"His main focus will be on helping Aberdeen do well.
"Even in the short-term Arnie was absolutely as high as a kite when he came back from the qualifiers.
"Hopefully, he can use that to continue the good form he has produced in the last few games.
"He has definitely made a big contribution for us in those matches."
Having spent the 2011-12 season at Aberdeen the Icelander, capped 63 times, returned to Pittodrie in the summer.
Prior to knocking Celtic out of the Champions League with Malmo, the defender claimed "once a Don, always a Don".
Following that, in an interview with the Evening Express in June last year prior to the Euros, Arnason refused to rule out a return to Pittodrie because the Red Army made him "feel loved".
A year later following his exit from Cypriot side AC Omonia he finally pitched up back at Pittodrie.
However, it was initially a frustrating return.
Arnason started in the opening Premiership game of the season, a 2-0 home win over Hamilton.
He did not start the next seven games until finally returning to the starting line-up in a centre-back partnership with Scott McKenna in the 1-0 Premiership win at Motherwell.
Arnason retained that starting slot.
McInnes is delighted that Arnason, who has faced Real Madrid with Malmo in the Champions League, is now bringing his experience to the Dons.
He said: "Any player who has the amount of caps Arnie has will have a high level of experience.
"Hopefully, he can bring that to us and we can gain from it.
"That was one of the main reasons we wanted to work with Arnie and bring him back here.
"Our team can be quite young sometimes and that level of experience at the back can only help us."
Some team we've got! #privilege #Russia2018WorldCup pic.twitter.com/N0AdFGCbol

— Kari Arnason (@karibestmeister) October 10, 2017
Arnason netted in the 3-0 win over Turkey in Istanbul in the penultimate qualifier to swing Iceland's World Cup fate into their own hands.
Rivals Croatia's shock loss meant a win for Iceland over Kosovo in Reykjavik would secure qualification for the trip to Russia.
Arnason was at the centre of the Icelandic defence as they triumphed 2-0.
McInnes said: "We are all delighted for Kari.
"As he is my player, I pay particular attention to the international games he is involved in with Iceland.
"Iceland got that result against Turkey and it set them up for the home game against Kosovo.
"They got the job done by winning 2-0 which was fantastic for both big Arnie and his country to qualify for their first world cup."
Arnason's contract is up at the end of the season, meaning he could be at the World Cup a free agent.
McInnes insists it is far too early in the campaign to discuss players' futures.
Asked if Arnason is a player they would like to secure on a new deal, McInnes said: "Who knows.
"It is not a discussion that Arnie and I have had at the minute. We will see how things go.
"We are pleased with what Arnie has given us over the last couple of games and he is a lot happier with his own performances in those games.
"He is just delighted to be back in the team and do himself justice, and hopefully he can continue to do that."
The veteran centre-back has played his role well recently in a strong start to the Premiership season.
Aberdeen are inactive at the weekend as their scheduled opponents Rangers will contest the League Cup semi-final.
The Dons are next in action when they host Celtic at Pittodrie on Wednesday.
Asked what has been key to that positive start, McInnes replied: "We have good players and a good mentality from the players.
"We have always been a team that can go on long unbeaten runs in different stages of the season.
"So it is no real surprise to me that we started in the league that way.
"We can be proud of the fact we are unbeaten but we have to try to continue winning. It is important that we meet the challenges."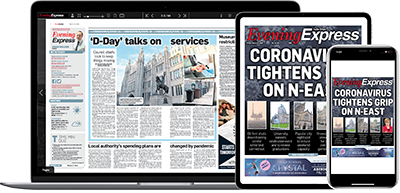 Help support quality local journalism … become a digital subscriber to the Evening Express
For as little as £5.99 a month you can access all of our content, including Premium articles.
Subscribe