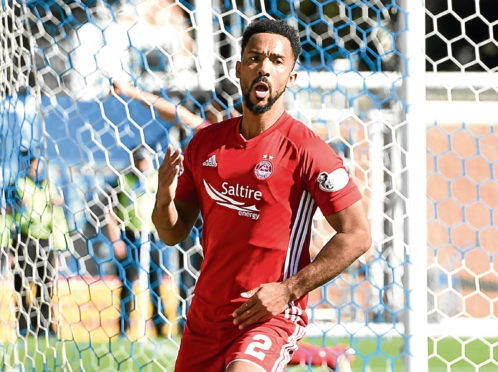 Rangers spent in excess of £8 million on their Premiership bid in the summer …
And promoted Hibs have been lauded for a tremendous season.
Which is why Aberdeen right-back Shaleum Logan reckons finishing ahead of both to secure a fourth successive second-place finish in the league will send out a strong message to the rest of Scottish football.
The Dons are embroiled in a three-way race with Rangers and Hibs for that runners-up spot which brings £320,000 in extra prize money – but more importantly the kudos of being the nation's second footballing force.
It is a mantle the Reds have held for the last three years and it is under serious threat.
The pressure is on all three sides and it could ultimately be the one who handles the heat more effectively that will finish best of the rest behind Celtic.
Logan said: "There are some good teams in there, with Hibs and Rangers.
"We go into games knowing they are going to be hard fought and if we finish above them it makes a statement.
"We have done that three years in a row.
"If we can do it again it will be four years in a row which is a great statement by the club.
"With the budget Celtic have it is going to be very, very tough to overhaul them.
"Everybody knows that coming into the seasons – you want to get as close to them as you can. But when it comes down to it they have a lot more all over the pitch than a lot of teams in the league.
"However, we have been in second spot in recent years and aim to keep that.
"We don't fear anyone and these are the games when we will see who is No2 in the league."
Aberdeen are level on points with second-placed Rangers but the Ibrox side have a superior goal difference.
Hibs, who delayed Celtic's imminent title party with a 2-1 win over the champions-elect, are a further three points behind.
under former boss Pedro Caixinha, Rangers spent big last summer to overtake the Reds as the Hoops' main challengers in the top flight.
Not only did they splash the cash, Rangers also tried to lure Dons boss Derek McInnes as replacement for the axed Caixinha. McInnes rejected their advances last December.
Logan said: "Compared to what we are spending they (Rangers) are spending much more. But let them spend.
"We have a good manager who will bring in people he needs and will make this a strong team."
Logan watched frustrated from the sidelines as Aberdeen crashed 3-0 to Motherwell in the Scottish Cup semi-final.
Skipper Graeme Shinnie and Scotland cap Kenny McLean were also suspended for the Hampden clash.
All three were back in action for the 2-0 win against in-form Kilmarnock as the Reds rallied from the cup setback.
Logan, 30, scored the second goal with McLean netting the vital opener at Rugby Park. Next up is a clash against Hearts at Pittodrie on Friday.
Logan said: "It showed great attitude from the lads coming off the semi-final defeat to go out and beat Kilmarnock 2-0.
"We put ourselves in a great position because teams will struggle to go to Kilmarnock and get points with the way Steve Clarke has them playing.
"After the semi it was about getting back to how Aberdeen play and doing the fundamentals right.
"We were down for a day or two but you cannot dwell on it as we still had games left to push us up in the league.
"Hopefully we will get a big crowd of 18 or 19,000 at Pittodrie for the game against Hearts. We will go into that all guns blazing."
The pressure ramped up further on Aberdeen before kick-off. Hibs' win over Celtic in the early match elevated the Easter Road club above the Reds, who dropped down to fourth.
Logan said: "We went out knowing it was 1-0 (Hibs) but didn't know the final score.
" Hibs is a difficult place to go and they got a good win against Celtic. But for us it was all about Aberdeen against Kilmarnock and getting three points."
Although Logan was suspended for the semi-final defeat he reckons supporters were right to criticise the Dons in the aftermath.
He said: "Fans pay hard-earned money and it is expensive for them to travel to away games.
"They can pay £60, £70 up to £100 for a day and if the kids are coming to the game it can be £300 or £400.
"If the team doesn't perform they have every right to say how they feel because they are paying fans.
"And without fans teams aren't anything.
"I never get upset by what people say because it is their view.
"In the semi-final, although I wasn't playing, the fans deserved better than they got. Everyone in the dressing room knew and appreciated that.
"That was what Kilmarnock was all about. To give the travelling fans something to go back home with."