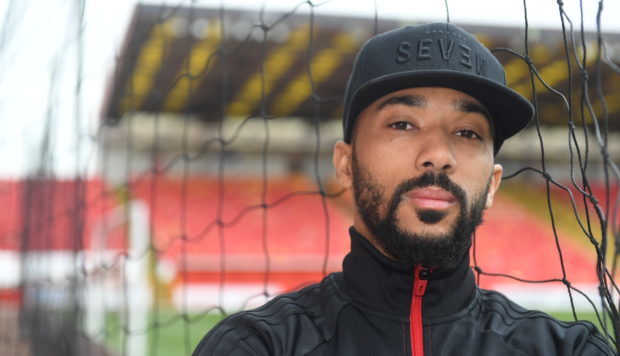 Aberdeen right-back Shay Logan reckons confidence is running high in the Dons' backline and throughout the team ahead of today's trip to Hearts.
The Reds conceded four goals in back-to-back defeats against Hibernian and Celtic in January, but a solid March and good start to April has seen them claw back second place in the Premiership from Rangers.
They are now undefeated in six matches – half of those clean sheets – and three points clear of the Ibrox side after beating Motherwell 2-0 at Fir Park on Tuesday night.
Derek McInnes' side have also set up another meeting with Well – the Scottish Cup semi-final at Hampden a week today.
The 30-year-old defender has been in the side as they've beaten teams home – on Pittodrie's much-maligned bare surface – and away in recent weeks.
He said: "It seems to have got a bit tighter at the back and we seem to be on a good run as well.
"It was a strong win against Motherwell on Tuesday night, they're a difficult team to play against, as we've seen this season.
"But we knew we had the ability to beat Motherwell and it was a real nice feeling to play on grass again after playing at Pittodrie on concrete.
"Being on a pitch where you could actually pass the ball instead of seeing your touch going because of the awkwardness of the surface.
"It was really nice and good to get a win under our belt.
"It's put us in a good position going into the split."
Logan added: "There's advantages to it (the Pittodrie pitch), obviously we play on it a lot more than other teams play on it. But you always want to play on a decent pitch whether you're defending or attacking."
A communication error let Kilmarnock force a replay in the Scottish Cup quarter-finas, after high-profile confusion between Logan and Kari Arnason led to a penalty in the first game.
This is a side of the game Logan was quick to emphasise the importance of and it looks to be something the Reds have resolved in recent games.
He said: "The best guy I played with for communication was Russell Anderson.
"He played right beside me. He didn't shut up on the pitch, but it was all the right advice.
"He'd tell you where to come, he'd pull you in, you just need that.
"Sometimes you'll be thinking about something else, when there's a guy behind you who can see everything.
"I sometimes have a go at people in front of me because I can see everything.
"I can see more than they can see and the guy behind me can see more than I can see."
Logan, who has now played 202 times for Aberdeen since joining, initially on loan, from Brentford in 2014, is contracted at Pittodrie for another two years.
That'll be plenty of time for his bond with, among others, twice Scotland-capped centre-back Scott McKenna, 21, to grow – a player who Logan sees developing into the defensive general Pittodrie needs.
He said: "He's still a young one, still the youngest in the defence.
"He still needs to gain a lot of experience. Those two international caps he got are amazing, and rightly so.
"He's an absolute force, he's a massive guy .
"For someone who's only 21, he's a future Scotland captain, I'd say.
"It's nice to have him back. He's started speaking a bit more since he's been there.
"Sometimes it seems strange when someone so young is talking, but he's sure of himself and sure of his defending.
"It's nice. As a right-back, it's nice to have your centre-half speaking to you, whether he's 21, 30 or whatever.
"As long as he's giving you good advice, it's alright by me."
Logan scored three times for Aberdeen last term, but has only got one goal this campaign.
That's something he might have improved against St Johnstone last weekend at Pittodrie, with Greg Stewart firing home his cross-goal second-half header.
Logan said: "There was one going in against Dundee that Kenny (McLean) got in the way of, and there were chances against St Johnstone.
"On a personal note it would be nice to get more goals.
"If they go in like that – Greg (Stewart) gets his first goal at Pittodrie when we win 4-1, then I'm not too fussed to be honest.
"I'm sure there will be more goal chances, but as long as the team keeps winning I'm fine with that."
The match at Tynecastle today is Aberdeen's final pre-split game and, given their current goalscoring form, McInnes' men will be looking to boost a record which has seen goalless draws in both previous meetings with sixth-placed Hearts this season.
Logan expects a tough game nonetheless, and wants to see the Reds get the three points, which will, at the very least, see them remain three points clear of Rangers at the start of the post-split fixtures.
He said: "In the first game I remember having a chance where I brought t he ball down off of my chest and the keeper made a great save.
"There's been chances in each game, they've always been a tough opponent Hearts and they've got a good defence.
"But we'll go there in high spirits, we're in good form and we play well away.
"We always seem to do well at Tynecastle as well, so I'm sure the team will be ready for the fight."
Logan added: "As a defender you want to keep a clean sheet.
"At the end of the day it's about winning and if we go and win 5-3, 4-3, 3-2, it might be a bit disappointing as a defender, but when you see the three points, that's what it's all about.
"Now it's about winning, with the pitches you're not playing pretty football.
"But from the start of the season it's a results business.
"Hopefully, we'll go into the split ahead of Rangers."