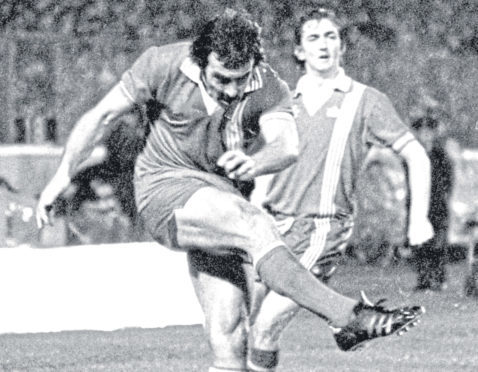 He hit a hat-trick for Aberdeen against Rangers and played alongside the Reds' greatest goalscorer on the way to League Cup glory in 1976.
But the one thing that concerns Jocky Scott about the current Dons side ahead of their latest clash with the Gers is a lack of goal threat.
Derek McInnes' side will battle it out with Steven Gerrard's men at Hampden on Sunday for a place in the League Cup final.
Scott played in attack alongside Joe Harper, King of the Beach End and Aberdeen's greatest goalscorer, when the Dons hammered Rangers 5-1 in the League Cup semi-final in 1976 before going on to lift the cup with a 2-1 win over Celtic.
In the last-four clash with the Gers Scott hit a hat-trick, with Harper and Drew Jarvie also on target.
Scott, who also helped the Reds to the League Cup and Scottish Cup double as co-manager with Alex Smith in the 1989/90 season, would love to see one of the current squad become a Hampden hero like him.
But he is concerned by the lack of goal threat in the Dons' ranks ahead of this weekend's game.
In nine league games Aberdeen have scored 10 goals, while in all competitions the figure is 16 in 13 matches.
James Wilson, Stevie May, Sam Cosgrove and youngsters Bruce Anderson and Connor McLennan have all featured up front and none have yet looked like being a consistent and prolific goalscorer.
Scott, 70, said: "I saw Aberdeen beat St Mirren 4-1 and I've seen them earlier in the season.
"My biggest worry for Aberdeen – and it might seem strange because they scored four against St Mirren – is who's going to score the goals for them?
"That's my biggest worry for them. They're a decent side who play decent football.
"Defensively they look solid and in midfield they have strength and good workers and passers.
"But even when they scored four against St Mirren they could have doubled that because, in my opinion, St Mirren were very poor and there to be taken apart.
"Four goals is good, don't get me wrong, but I see that the bit of Aberdeen's team that is lacking is an out-and-out goalscorer.
"I haven't seen much of James Wilson, but there is nobody there that I see as an out-and-out goal threat.
"Teams need someone that is a constant goal threat – what I mean by that is someone who every time they get the ball in and around the box the fans are looking at them scoring.
"Right now Gary Mackay-Steven and Niall McGinn offer that now and again. But I don't see it as something that is every time they get the ball a threat is offered.
"Going back to our team in 1976, we had Joe Harper.
"Every time Joe got the ball in and around the opposition penalty box there was the threat of a goal. Regardless of who we played against, there was a threat of a goal from Joe every time he got it.
"Unfortunately I don't see that just now."
Reflecting on the triumph in 1976, Scott says it was one of the highlights of his career along with winning the same competition at Dundee in 1973.
After missing out on the Scottish Cup final, Scott says players should appreciate every chance they have to win silverware.
He added: "It's always great to score goals and it's always great to get a hat-trick in any game.
"But on that occasion, a cup semi-final, I suppose there is more glamour to it.
"It was a major highlight, I didn't win many things as a player – I won the League Cup with Aberdeen and the League Cup with Dundee.
"I never reached a Scottish Cup final as a player so I missed out.
"It's always great if you can get to a final, it was more pleasing in 1976, I think, because I never got to a Scottish Cup final.
"I played in four semi-finals – all against Celtic, but never got to the final.
"You realise quickly as a player that a semi-final is the worst game because you are within touching distance of a final, but at the same time you can be so far away from it.
"To play in so many and not win one was very disappointing, so that night against Rangers in the League Cup was great.
"We had a good side at that time. Although we were a little bit fortunate in the final, you take your bit of luck.
"It was great to win the League Cup with Aberdeen."