How do you prepare to defend against the best player in the world? Well one Aberdeen youngster has been finding out.
Dons under-20 starlet Joe MacPherson witnessed first hand how to prepare for and how to shut out Lionel Messi.
The 17-year-old was called up for a training camp with Peru's under-18s squad, but spent much of his time training with the senior Peru team earlier this month as they prepared to take on Argentina in a crucial World Cup qualifier.
MacPherson spent almost three weeks in Peru. He was part of a five-day training camp with Daniel Ahmed's U18s and also spent time with Ricardo Gareca's senior team.
The full national side were gearing up for World Cup qualifiers away to Argentina and at home to Colombia.
The right-sided defender revealed his surprise at training with the senior team and stars of Peruvian football such as Lokomotiv Moscow and former Schalke winger Jefferson Farfan as they geared up to take on an Argentine side containing Messi, Angel Di Maria and Javier Mascherano.
And despite all the talent in the Argentina team, Peru shut them out and drew 0-0 in Buenos Aires.
MacPherson said: "It was a bit difficult just choosing a time to go because it is a 12-hour flight away.
"So it wasn't really worth it for a five-day training camp.
"Luckily I went at a time where it was two weeks, nearly three weeks, and the first team were there warming up for World Cup qualifiers against Argentina and Colombia.
"Just being in Peru at that time is something I'll always remember.
"I definitely learned a lot just from being there and being around pros who have been playing in Europe for nine years – players who are at the peak of their game.
"I was learning different styles and seeing them preparing for a game against Argentina.
"How do you prepare to defend against the likes of Lionel Messi and co?
"I've certainly come back a better player with a lot more knowledge.
"I was surprised by how much I trained with the first team.
"Considering it was my first time being called up, I think they wanted to see what I was about and what I could improve on.
"It was great to be given the chance to train with them when they have two crucial qualifiers and the country is begging for a result.
"It's been 35 years since Peru have been in a World Cup so to train with them is something I am very grateful for and very proud of."
MacPherson has been capped by Scotland at under-16 and under-17 level.
But the youngster was born in the Peruvian capital of Lima and lived in the city of Moyobamba in Northern Peru until he was seven.
MacPherson's mother Martha is from Peru, his father David is a minister and met Martha when he moved to Peru as a missionary.
The family moved to Aberdeen 10 years ago and David is the minister at the Bon Accord Free Church in the Granite City.
MacPherson also explained how he was called up.
He added: "It was something the Peruvian FA put on their website and it was looking for Peruvians outside of Peru.
"My dad David looked at it and I didn't think about it really, he thought there was no harm in me playing for my country.
"So he just put Joseph MacPherson in Scotland playing in Scotland for Aberdeen under-20s.
"They saw that and asked for some videos and luckily here at the club all our development games get filmed so I just sent them my log-in for the football squad which has got all my clips.
"So I guess they liked what they saw and invited me over."
After the draw with Argentina, Peru drew 1-1 with Colombia in Lima which qualified them for the play-offs.
They now face New Zealand in a play-off next month as they attempt to reach a first World Cup since 1982.
MacPherson aspires to reach the level of the players he trained alongside.
He said: "Of course, it gives me something to aspire to. I actually got a ticket to the Colombia game.
"Just looking around it was something I have never experienced before with that sort of atmosphere, even the week before going to training and making your way through the fans with police escorts, it was something I've never experienced.
"It was great. I think I have learned a lot about managing the game, the style of football is very different in South America.
"In Scotland, you don't have much time on the ball.
"It's very fast and physical and you have nowhere to play.
"But in Peru you do get more time and they are very keen on playing out from the back.
"One thing you could say is that they all want to chase the ball, but they are all very good technically, some of them are amazing on the ball.
"I think they maybe saw that I had the European training and I know about shape and that is something Paul Sheerin (Aberdeen U20s manager) drills into us a lot."
When asked if he saw himself choosing to represent Peru over Scotland in the future, MacPherson said: "When you are born in a country and lived there until you were seven and all of your mum's family are from there you do get a real sense of pride and belief that it is your country.
"But being here in Scotland for 10 years I do have a strong love for Scotland and have had some of my childhood here in Scotland.
"It's a hard one to answer but Peru is somewhere that I have a lot of love for and it was an honour to be there and be training with them."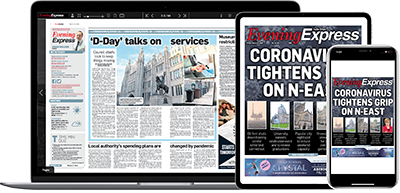 Help support quality local journalism … become a digital subscriber to the Evening Express
For as little as £5.99 a month you can access all of our content, including Premium articles.
Subscribe