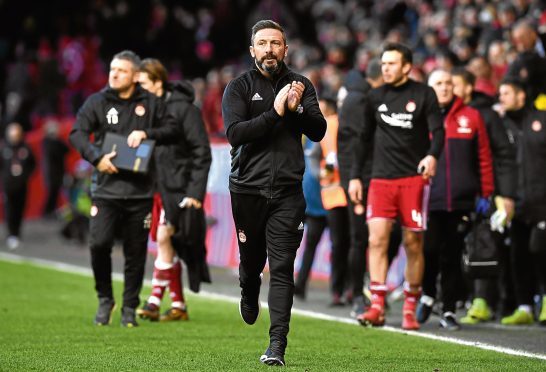 Aberdeen legend Willie Miller today warned only Derek McInnes has the say if he stays at Pittodrie or joins Rangers.
The Dons have refused Rangers permission to talk to McInnes about the vacant managerial position at Ibrox.
However, Miller reckons that stance counts for little.
Although McInnes is contracted until 2020 and £800,000 compensation would be required, Miller claims the situation is outwith Aberdeen's hands.
It is understood Rangers aim to come in with a second offer of more than £1 million compensation to test Aberdeen's resolve.
Miller warned, if McInnes wants to talk to Rangers and the Dons play hard-ball by continuing to refuse permission, he could rip up his contract.
Alternatively, if the Dons fight to keep their manager, Miller reckons the debt-free Dons could attempt to splash the cash.
But either way the call will be by McInnes in what will be a nervous few days for the Dons.
Rangers chairman Dave King recently confirmed they hope to have a new manager secured for the weekend clash against Ross County.
Miller said: "Ultimately it is now in Derek McInnes' hands, not Aberdeen's.
"If Derek doesn't want to talk to Rangers, great – end of story.
"However, he is an ex-Rangers player and an ambitious manager
"Whether he thinks Rangers are in a fit state to allow him to progress his career is another matter.
"It is a long hard thought process for him.
"But the next step is up to Derek McInnes.
"Rangers have made an approach and Aberdeen have said no.
"It either falls there or the manager tells the chairman he wants to speak to them.
"If it is still a no and he feels strongly enough about it then he breaks his contract.
"Even though the contract exists, it wouldn't be the first time a manager has walked out on a contract and then it is just down to compensation.
"But I wouldn't think that would happen as I am sure, with the relationship with Derek McInnes and the chairman Stewart Milne, they will get their heads together."
Rangers finally ended mounting speculation yesterday by formally approaching Aberdeen for permission to talk to McInnes.
An Aberdeen FC statement said: "Aberdeen Football Club has announced this evening that Rangers have contacted the club asking for permission to speak to Derek McInnes and that permission has been refused."
McInnes has been the favourite to succeed Portuguese Pedro Caixinha since he was axed six weeks ago.
Miller said: "This is the start of negotiations and is the beginning of the end game.
"I would hope that within the week the decision will be made – Derek stays or he goes. The approach has been made and Aberdeen have turned it down, which you would expect them to do.
"When you have an approach made, I would be very surprised if Aberdeen took any other stance."
An approach from Sunderland in the summer reached the advanced stage of the clubs agreeing compensation for McInnes to talk to the Black Cats.
He subsequently rejected their advances and soon after signed a one-year contract extension at Pittodrie until 2020.
Aberdeen are debt free and recently posted £533,000 profit as turnover increased by £2m to £15.3m for year ending June 30, 2017.
Miller reckons the scope could be there to offer McInnes an improved package, but ultimately it might not come down to cash.
McInnes rejected the chance to triple his wages with Sunderland.
He said: "They did a new contract in the summer where the manager was well looked after and well backed by the board.
"Do they start throwing money at it?
"The club are in a very good position to do that, but whether that is what Derek is looking for or not we have to wait and see.
"But there are certainly options for the board there to make it even more appealing for him to stay.
"However other aspects such the fact he is an ex-Rangers player might come into it."