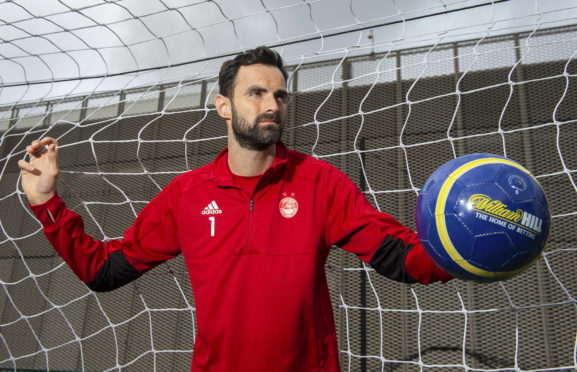 Lots of goalkeepers play on until they reach 40 – and Aberdeen's Joe Lewis has his sights set on doing the same.
Italian great Gianluigi Buffon is still between the sticks for Paris Saint-Germain at 41.
Another famous example was Dutchman Edwin van der Sar who bowed out at Manchester United in 2011, aged 40.
A Dons goalkeeping legend has also played beyond the age of 40 – Gothenburg Great Jim Leighton retired in 2000 aged 41.
Reds custodian Lewis may only be 31, but he believes he could play until the end of his fourth decade.
The Englishman is in his third season with Aberdeen after arriving in the Granite City in the summer of 2016. He is set to line up for the Dons at Tynecastle against Hearts on Saturday as the Premiership returns following an international break.
Lewis is enjoying his football as much as at any point of his career.
The former Fulham, Blackpool, Cardiff and Peterborough keeper believes things become easier for a goalie as they get older.
They know training routines which work and those which don't and know how to get the best out of themselves.
The evidence is there to back up Lewis' thinking. His form has been as good as ever and he's kept 13 clean sheets for the Dons.
Still at the peak of his powers, Lewis believes he has a lot of time left in the game.
And he plans to spend it with Aberdeen, where he is under contract at Pittodrie until the summer of 2020.
He said: "I think the further you get into your career things become easier.
"That is because you know your game more and you know what works for you and what doesn't.
"The older you become as a goalkeeper I think it becomes easier for you in terms of training and staying sharp.
"Until you come to the point where you start to lose your physical fitness.
"But I feel like I have a good eight years at least left in me.
"I would love to play as long as I can.
"You see goalkeepers reaching 40 these days.
"Touchwood injuries don't play a part and hopefully I will be able to do that.
"I have no visions of leaving Aberdeen because I'm very happy here and enjoying my football."
Lewis has been happy with his form this season for the Dons which has helped Derek McInnes' men reach the League Cup final, the Scottish Cup semi-final and they sit third in the Premiership.
He has only missed a half of football all campaign which came against Hibs at the beginning of last month.
He was subbed just before half-time with a nasty gash above an eye which was picked up due to a collision with a post.
On his form Lewis added: "I feel confident and I have been pleased with how I've played this season.
"I'm still enjoying my football here – I've enjoyed every minute of it with Aberdeen.
"I want that to continue being the case, keep my head down and keep working hard to contribute to a successful team."
Sitting on the bench as understudy to Lewis this season has been Czech keeper Tomas Cerny.
At his previous clubs, which include Hamilton, CSKA Sofia and Partick Thistle, Cerny has usually been the No1.
However, with the Dons he has had to play second fiddle to Lewis – who believes Cerny's presence at Pittodrie has helped him continue to deliver top performances. Lewis knows to stay in the team he needs to play well.
He said: "Tomas is an excellent goalkeeper and he has been enormously helpful for me. I've learned a lot from Tomas and hopefully he's learned a lot from me as well.
"We work very well together and get on very well together.
"We talk a lot off the pitch as well so Tomas has helped my performances this season.
"Hopefully having two capable goalkeepers at the club can only be good for the team because we spur each other on."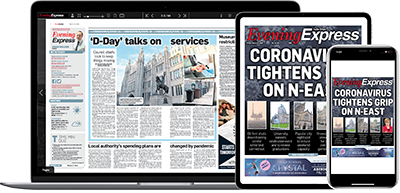 Help support quality local journalism … become a digital subscriber to the Evening Express
For as little as £5.99 a month you can access all of our content, including Premium articles.
Subscribe