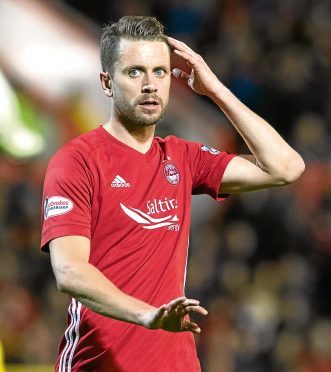 Kari Arnason wishes he could have repaid the Red Army for their support with better performances.
The Icelandic international is now with his country preparing for the World Cup in Russia later this summer.
Iceland face Norway tomorrow in Reykjavik, the first of two friendlies – the second is at home to Ghana next Thursday – before heading to Russia.
Arnason left the Dons at the end of the recently-concluded season after his contract expired having made 25 appearances in a red shirt over the campaign.
The 35-year-old has now re-signed with his first club, Vikingur Reykjavik, in the top flight of Icelandic football.
Arnason struggled at times and was unable to hold down a regular place in the Dons team as he had hoped.
The centre-back, who could also play in midfield, has revealed he was "sad" to leave Aberdeen for a second time and says he will miss the Granite City.
Arnason said: "I will miss the city, the club and the people but the football I won't miss that much.
"But the fans and the boys at the club and everything around the club I will definitely miss. I was sad to leave.
"I'm very grateful for all the love and support they showed me throughout my career.
"Even after I left Aberdeen the first time, I just wish I could have repaid them with more minutes this season and done a bit better as well.
"Me and my family had a great time there and I always felt I had the support of the fans during my time there so I'm very grateful for that.
"I was very grateful as well that they wanted me to come back to the club.
"I had left, but they still supported me and wanted me to come back."
This season was Arnason's second spell with the Reds. He first arrived at Pittodrie from Plymouth Argyle in 2011, under manager Craig Brown.
After a successful campaign in which he became a fans' favourite, Arnason departed for Rotherham United in the summer of 2012.
He spent three years with the Millers and helped them climb from League Two to the English Championship.
Then in 2015 Arnason moved to Sweden to join Malmo. After a successful season and a half he moved on to AC Omonia in Cyprus before rejoining Aberdeen last July.
Arnason explained part of the reason for leaving the Reds and returning to his homeland was that he didn't feel he would be able to manage another season in the physical Scottish Premiership.
He added: "I wasn't feeling like I wanted to play another full season in Britain.
"I'm open to playing somewhere in mainland Europe, but it's because British football is so hectic.
"There is so much heading balls and you're fighting with players and it's not the same football for an old-ish player like me as mainland European football.
"British football is a bit too full on for a 35-year-old."
Arnason was disappointed with how things turned out with Aberdeen and admits he thought the style of Scottish football would suit his playing style better than it did.
He said: "How things turned out was one of those things.
"Maybe the style of play didn't suit me quite as well as I thought it would.
"I'm not making excuses, but I had been away, although I could have done better in a few games definitely.
"But the manager had set in his mind what we were going to do, so I played my part in that.
"My part wasn't as big as I wanted it to be, but there's nothing I can do about it now."
Arnason has now returned to Iceland with Vikingur and will link up with them after the World Cup.
He spent five years with the club at the beginning of his career before leaving to join Danish outfit Djurgarden in 2004.
Vikingur have already started their season and have played six league games and currently sit ninth in the 12-team league.
Arnason revealed it was always his plan to return to his hometown team at the end of his career.
He said: "It's nice to be back. It was always the plan to go back and give something back to where it all started for me.
"It's my second home, it's the neighbourhood I grew up in and I love the place.
"It will be interesting to go back. It is part-time, but you can make a decent living out of it and it will be interesting to go back to normal life."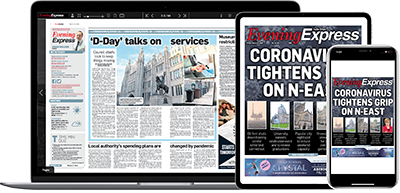 Help support quality local journalism … become a digital subscriber to the Evening Express
For as little as £5.99 a month you can access all of our content, including Premium articles.
Subscribe