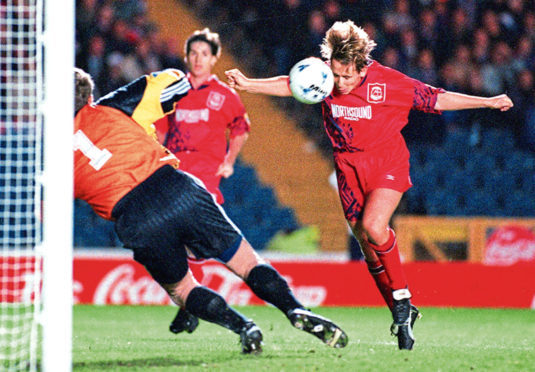 "I just thought, 'that's brilliant'.
"If Gazza had done it, it would have been, 'look at that, what a player', but because Jess did it, it was scandalous.
"I remember all the players shouting at him, 'we'll try and do you' and I had a wee wry smile on my face."
These are two-goal semi-final hero Billy Dodds' memories of the moment Eoin Jess played keepy-up in the 1995/96 Coca-Cola Cup game against Rangers.
With the score at 2-0 – Aberdeen would eventually win 2-1 at Hampden, and then beat Dundee 2-0 in the final to lift the trophy – Jess's exploits confirmed he had won the hyped-up battle between himself and the Gers' Paul Gascoigne.
Jess, playing in midfield, had also gone a long way to creating Dodds's opener earlier in the match. He drove forward with the ball from his own half at lightning speed, before playing a delicate pass into the striker.
Dodds' first touch struck a defender and took the ball to what appeared to be an near-impossible scoring position out on the left.
Now a pundit, Dodds explains what happened next. "It was a bad touch but my reaction was good," he said.
"I meant to just let it take the touch to put me through on goal because there was space there.
"I remember Jess driving; it wasn't his best drive – I remember the goal he scored at Ibrox (in the league a month later) where he smashed it in the top corner.
"He threaded it through to me and I meant to take it with my right foot but it kind of came off my heel and deflected off somebody. It was one where, I was never blessed with great pace, but I was always sharp, that got us the goal.
"I just knew Andy Goram; every time he got the ball he tried to kick you or leave something on you – a wee bit in the way Allan McGregor does these days. I knew he would try and get to me and tackle me, but my sharpness got me there, and I knew he would spread himself – it was one thing he was brilliant at, making himself big.
"It's amazing how you can think all that in a split-second. I was thinking: 'You've taken the bad touch, let's get on to it sharp, I know he's going to come and try and smash me or make himself big, let's just get a contact on it, I'm almost sure it'll go through his legs.'
"And I managed to put the contact on it and put it in."
The second goal was a cross-goal header from a Stephen Glass ball.
Dodds said Glass's pace was "incredible" in those days and he just had to "drift" so the left-back could pick him out.
The player, who left, Pittodrie in 1998 in a deal to bring Robbie Winters to Aberdeen, describes lifting the League Cup in 1995 as his biggest Reds moment, alongside dodging relegation with a remarkable end-of-season run of wins the campaign before.
Going into the semi-final against Rangers, who went on to win the top-flight title in 1995/96, Dodds said Roy Aitken's Dons were aware just how good they could be.
He said: "We knew we had a chance; obviously Rangers were a big team with all the big stars but we knew if we played well we would've given anybody a game.
"Right through the competition was great for me. I scored in every round apart from Falkirk (4-0 in the third round).
"We knew we would take a lot of beating and it would be a right good performance that would turn us over."