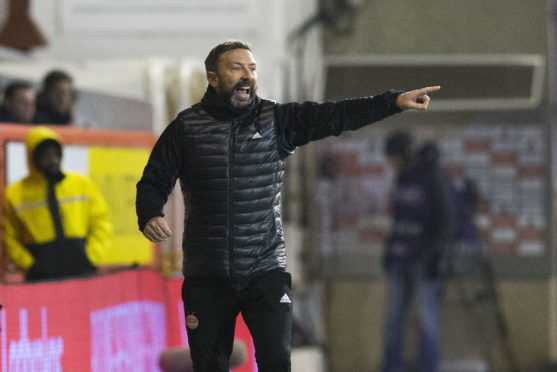 Pittodrie boss Derek McInnes accepts one trophy in five years at the Dons is not enough – and has vowed to add to that at Hampden on Sunday.
McInnes is a realist and knows a manager's legacy and that of the team he has built is gauged purely on silverware.
Within a year of arriving at the Dons he delivered the League Cup in March 2014 to end the club's 19-year trophy drought.
Since then there have been two further finals, four Premiership runners-up finishes and five straight European campaigns.
Yet in decades to come none of that will be remembered – all that will last is trophy success. Lifting a trophy is not just pivotal for McInnes, he acknowledges how much it means to the club, the Red Army and the city.
He aims to deliver another trophy by overcoming Celtic at Hampden on Sunday to lift the Betfred Cup and hopes that is the catalyst for more.
McInnes said: "Periods of time can be reflected on really fondly and I am sure that, in the future, history will show that of the time here at Aberdeen.
"But for me the most important thing is trophies.
"We haven't won enough and I want to win more.
"Working with the players every day I see how important it is to everyone at the club to try to win a trophy.
"Supporters want to see their team lift a trophy and hopefully that's exactly what we can do."
McInnes will lead the Reds out for a fourth domestic cup final on Sunday.
Only one manager has overseen more final appearances, Sir Alex Ferguson.
Club legend Sir Alex led the Dons to seven finals and won five (four Scottish Cups and a League Cup). Dave Halliday also managed the Dons in four finals (winning the League Cup).
When McInnes was appointed manager in March 2013 the Dons had not been to a final since the 1999-2000 season when they lost both the League Cup (a 2-0 loss to Celtic) and the Scottish Cup (a 4-0 loss to Rangers).
McInnes said: "At Aberdeen my job was to try to bring some silverware, to try to get the club some respectability again and to get back into Europe. And we have done that.
"It is the perception of others and how they will look back on this in the future.
"You are never going to please everybody all the time.
"You look back and think, I gave that club everything and that is all I want to do here.
"It's for me, my staff and my players to give everything we have to be successful. And we will continue to do that."
McInnes has brought back that respectability, and more, to Aberdeen. Cup finals are now a regular occurrence again instead of a once-in-a-generation event.
He has delivered on the target set down by chairman Stewart Milne when he took the reins of a club mired in the wasteland of the bottom six of the league.
McInnes is driven to deliver a legacy of multiple trophies while manager at Aberdeen.
It is something he has taken a pride in throughout his career, both as a player and manager.
He said: "At every club I have ever worked at, whether as a player or manager, the goal is to leave it in a better place and look back with fond memories.
"I feel at the majority of clubs I played at that was the case.
"I was successful at the majority of clubs I played at whether that was promotions, cup wins, league wins.
"As a manager of St Johnstone (2007-11) my remit was to get the club promoted and establish ourselves as a Premier League club.
"We did that and we built a squad that allowed them to be that for years to come.
"At Bristol City (2011-13) it was to keep the team in the division from a hopeless situation and reduce the wage bill. We did that in the first year and kept the team up from a hopeless situation.
"We were well on the way to reducing the wage bill. I look back on my time there still with a bit of pride in what we did.
"The last three months of it wasn't great but there was still a lot of it that was very positive. I did the job I was asked to do."