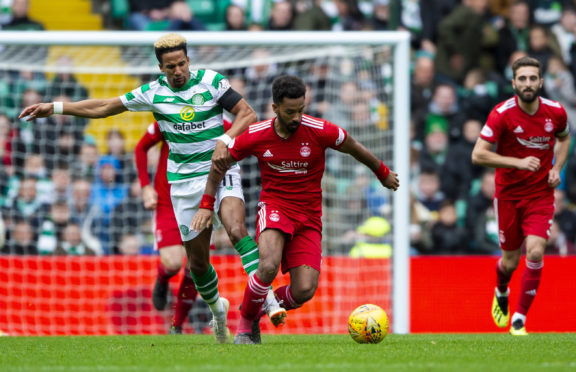 Aberdeen right-back Shaleum Logan is even hungrier to bring success to Pittodrie in what he believes will be the most competitive season yet.
The defender has racked up more than 200 starts for the Dons since arriving in January 2014.
He is one of the few remaining players from the 2014 League Cup-winning side and played a pivotal role in securing four straight Premiership runners-up finishes.
However, the 30-year-old is not one to dwell on past glories.
That was then, this is now and although the Reds have secured a BetFred Cup semi-final spot, they trail Premiership leaders Hearts by 10 points.
Logan is determined to deliver another season to remember for the Reds and remain a first-team starter for boss Derek McInnes.
He said: "I have more hunger than the day I came into Pittodrie.
"That is because people forget what you have done in the past.
"Football is very much about the now so you have to keep on track or people will come in and take your place and you will be moved aside.
"You have to very much stay in the now and not dwell in the past.
"Although we have done well in the past, I want to continue to do well. I want people to continue to think that I am a good player as well.
"For me, it is all about the now."
Over four continuous seasons, Aberdeen have finished runners-up to Celtic and secured the mantle of the country's second force.
That is under threat this season, as Hearts remain undefeated in the opening seven games and are five points clear of second-placed Hibs.
Aberdeen sit in seventh spot, 10 points behind the Jambos.
Defending champions Celtic, who beat Aberdeen 1-0 at the weekend, are also finding the going tough and have suffered their worst league start for 20 years.
Logan expects this season to be the most competitive yet, but expects that every campaign due to what he perceives to be the constant rising standard of the Scottish top flight.
Asked if he thinks this season will be even tougher, he said: "Yes. But I said that last year.
"You always expect the year after to be the toughest one.
"You always expect teams to build and they do build.
"The Premiership is always going to be a tough league.
"People slag off Scottish football and the Scottish league but when you think about some of the players up here now, and the teams, it is a good league.
"I cannot sit here and say it is this or that in the Championship or wherever in England. But I have played in other leagues and know how strong it is up here.
"The teams are strong and are getting stronger.
"The teams that have come into the Premiership (Livingston and St Mirren) are also strong.
"However, we just build a team and do what we can do.
"Everyone else is irrelevant – until we play them on the day.
"We don't worry about anyone."
Of his 200-plus appearances for the Dons, only four have been as a substitute. A rare appearance on the bench came in the 1-1 draw at Hibs this season when returning from a three-game suspension.
That ban came following a red card in the 1-0 win at Celtic in the final game of last season. Logan returned to the starting line up for the next game and has remained there since.
"I am not one of those players who likes to sit out," he said.
"I have never been a sub, really, and always like to be playing.
"Even if it is in a friendly, I like to be on that team sheet.
"I try to make sure in training that I am one of the first names on the team sheet."