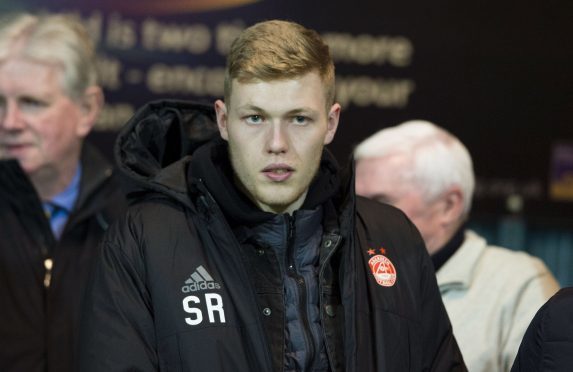 Carlisle United today revealed they sanctioned striker Sam Cosgrove's transfer deadline day move because he had his "head turned" by a move to Aberdeen.
The Dons had reached a pre-contract agreement with the 21-year-old to secure his services in the summer.
League Two outfit Carlisle had been keen on extending the striker's deal, but Cosgrove, pictured, made it clear he would move to Pittodrie.
Carlisle chief executive Nigel Clibbens said: "We were contacted by Aberdeen on Monday and they informed us they'd reached a pre-contract agreement during talks this week to sign Sam in the summer.
"From Keith's (Curle, manager) conversations with Sam, and with his agent, it was made very clear that there was absolutely no prospect of Sam staying beyond June 30.
"That tells us that he had his head 'turned' by the prospect of playing in the Scottish Premiership, and also in Europe.
"His strong preference was for a clean break now. We talked about extending Sam's deal, but it was made clear that the situation had come around based on the opportunity he had been presented with.
"Therefore, a new contract was not an option either.
"Faced with that inevitability we had two choices.
"Firstly, we could have continued with Sam as part of the Carlisle United squad for the rest of his time here.
"He would have stayed in competition with our other strikers and worked hard to play his part, as and when required by the manager, between now and the end of the season.
"He would have been doing this with team-mates, coaching staff and fans knowing his future and commitment was elsewhere. We would then receive the prescribed training compensation applicable when he moved on to join Aberdeen.
"The alternative was to reach agreement for him to go now.
"As an under-24 player, Sam would also be moving across an international border. Therefore, the compensation we are due is a small, fixed sum for every year he has been with Carlisle United – that's it.
"By the end of his contract, Sam would have been here for approximately 11 months. That also severely limits the fixed payment we would get. With that in mind, we knew we had to consider all options and find the best outcome for the club and for the player.
"Having carefully considered the pros and cons, we reluctantly decided to agree to a transfer deal being done now. On footballing grounds, we need everyone to be focused on the games ahead and not to be looking elsewhere."
Cosgrove scored once in his six starts and six substitute appearances for Carlisle.