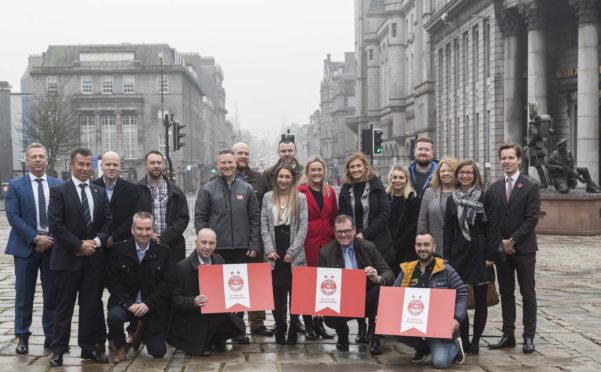 Aberdeen have launched a new By Official Appointment (BOA) initiative for the local business community.
The scheme will formally bring together a number of firms and Dons fans under a common banner with a view to generating more business.
Under the BOA programme, the intention is that supporters will receive the best possible products, offers and services.
Local businesses have a range of categories to choose from, each of which offers a variety of benefits such as branding, networking, use of the club logo, preferential advertising rates and complimentary matchday tickets.
Partners pay an annual subscription fee to secure a club licence entitling them to By Official Appointment partnership status.
Any business that doesn't specifically have a consumer offering can join as BOA affiliates and also enjoy benefits.
The launch of the BOA programme follows the successful AberDNA initiative which was launched earlier this year, attracting nearly 6,500 members.
Fans' funding scheme AberDNA has already raised in excess of £600,000 to strengthen manager Derek McInnes' squad.
Aberdeen FC commercial director Rob Wicks said: "Aberdeen is filled with outstanding businesses that are very good at what they do.
"Many of them stand to benefit from a closer relationship with Aberdeen FC.
"Through the BOA programme, participating businesses will be able to create incentives and special offers which the club will market to its extensive fanbase using our range of marketing and media channels.
"By official appointment is another way for us to pull a lot of local businesses under a common banner.
"For us to be able to use the power of the football club for good in terms of the local business community.
"With more than 230 available categories, participation in the BOA programme will enable local businesses to increase awareness, prestige and status while growing market share coupled with creating loyalty and affinity among our supporters.
"With more than 100,000 stakeholders, that is quite an incentive."
Interest among the business community has been significant.
Among the companies to have already signed up are Central Coaches, Malmaison, Gary Walker Wealth Management, Pro Player Plan, Aberdeen Framing, Jamieson & Carry, Fresh Mex, GD Pest Control, The Ashvale, Flexistore, Decidedly Dogs, The Foundry, Four Mile, Maggies Grill, Siberia, Skyline, Signed Memorabilia by Tony Scott, Aberdeen Whisky Shop, McWilliams Butcher, the Belmont Filmhouse, Mackies of Scotland, Fits the Scoop, H&R and Elegant Beauty.
Wicks said: "More than 20 businesses have already signed before the official launch which is indicative of how strong the support for this is."
The BOA Programme is yet another initiative that can boost the coffers at Pittodrie.
Wicks said: "Generating income for the club is at the forefront of my mind.
"This comes with the added benefit that we are going to be working with the best businesses in town and making sure we can provide our fans with offers and opportunities through these businesses."