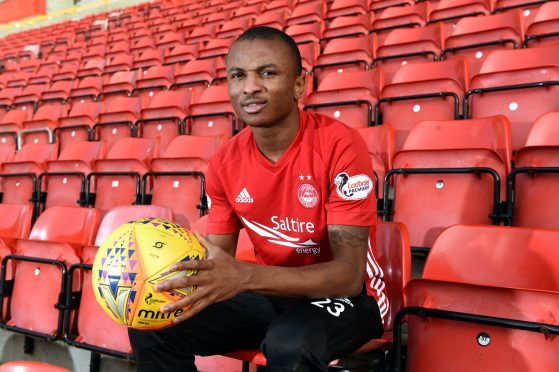 New boy Chidiebere Nwakali went on a round trip of more than 9,000 miles last week to ensure his Dons move didn't fall through.
He flew back to Nigeria to collect a visa in the capital Abuja, helping him receive international clearance which means he is allowed to play for Aberdeen.
The loan signing from English Premier League giants Manchester City faced a lengthy wait for his clearance to be finalised.
It was announced that Nwakali had joined the Reds on January 10 while boss Derek McInnes and his squad were in Dubai for a warm weather training camp during the winter break.
It had been hoped given the time of the signing that Nwakali would receive his clearance in time to make his debut in the Scottish Cup fourth-round tie against St Mirren.
However, due to the high number of applications that have to be processed, applicants can have to wait a considerable time for approval.
Nwakali still hadn't received his clearance prior to Aberdeen's trip to Ibrox last Wednesday, to face Rangers.
It was after this game at the end of last week he headed back to the capital of Nigeria, Abuja – a round trip of 9,200 miles – and Nwakali only arrived back in the Granite City at 10am on Saturday.
And later in the day the 21-year-old came off the bench to make his Dons debut in the 3-1 win over Kilmarnock at Pittodrie.
Nwakali said: "I had to go back to Nigeria to the capital Abuja to get approval.
"So I went over and got it and came back as quick as I could."
Despite the wait, Nwakali says he was never worried he wouldn't receive international clearance – which would have stopped his loan move to the Reds.
He added: "It wasn't a worry for me because I knew it was definitely going to come.
"Now it has come I just have to stay focused and take my chance to develop."
Nwakali has been attached to City since 2014 and this is the latest in a number of loan moves designed to ready him for first-team football at the Etihad.
He has had spells with Malaga's B team and also spent time with another Spanish side, Girona.
Norway was Nwakali's next destination with spells at IK Start and then most recently Sogndal last year.
His most recent move ended in December at the end of the Norwegian football season.
Now after making his Pittodrie bow Nwakali is looking for more games and could make his first start against Ross County tonight at Victoria Park.
Nwakali has noticed a difference in styles between Scottish, Norwegian and Spanish football and believes he will benefit from experiencing as many different styles of football as possible.
"I feel good and I'm looking forward to playing more," he said.
"I have played in Norway and being in Aberdeen and playing in Scotland is quite a different place and the football is also quite different.
"To me as a young player it is good to experience different types of football and trying to play in different leagues.
"And trying to know where you fit and trying to find what is best for you to choose.
"It is good for me. I've been in Spain, Norway and now Scotland so I have a lot of different experiences.
"It is going to help me develop as a player and it is going to help me grow as a player and become tough so you can face any type of challenge that comes along the way."
While settling in well at Pittodrie, Nwakali admits the weather in the North-east in January is not something he's used to.
In his homeland today the mercury is expected to hit 35 degrees and Nwakali added: "I don't think the weather is going to be that much of a problem, although it is different.
"It's quite cold just now for me coming from a warm country."
Nwakali admits he is unfamiliar with the Staggies and with Scottish football but believes the Dons need to play their natural game against Owen Coyle's men.
He said: "I don't know much about Scottish football but watching it and trying to see what is different with the places I have been before I can see there is not a lot of difference.
"But Scottish football is quite intensive.
"I don't know much about them (County).
"But we are not afraid and we are ready to stand any challenge or any battle and that's what you have to do in football.
"They are good and unique in their own way and we are good and unique in our own way.
"Football is all about who is best and we don't under-rate any team that we play.
"We are Aberdeen and we just want to play the type of football that we know how to play.
"It will be a good challenge for me."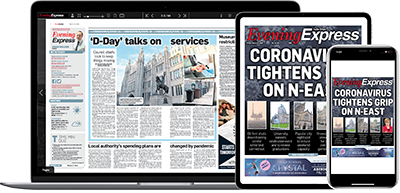 Help support quality local journalism … become a digital subscriber to the Evening Express
For as little as £5.99 a month you can access all of our content, including Premium articles.
Subscribe